Argentine jurist elected to head the UN Human Rights Committee
Wednesday, March 18th 2015 - 07:57 UTC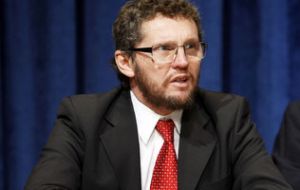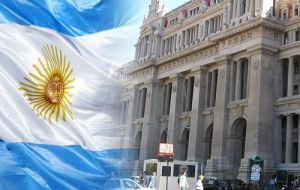 Argentine jurist Fabian Salvioli was unanimously elected on Tuesday to lead the UN Human Rights Committee. The 51-year-old lawyer will be presiding over the UN body for one year. Salvioli has been a member of the UN Human Rights Committee since 2009.
The Human Rights Committee is the body of independent experts that monitors implementation of the 1966 International Covenant on Civil and Political Rights. All states that are signatories to the agreement must submit regular reports to the committee on how rights are being broadened in their country.
The committee examines each report and addresses its concerns and recommendations to improve the human rights situation in each country.
Last year, Salvioli in an interview with the Buenos Aires Herald praised Argentina's human rights policy but also questioned the appointment of the controversial intelligence General César Milani as Army chief, characterizing the move as a "mistake."
Salvioli has also been critical of the Argentine Judiciary. He has complained that some judges lack academic training in human rights and all too often do not have a gender perspective.
Salvioli is also the director of the University of La Plata's Human Rights Institute.
Last week Silvia Fernández de Gurmendi, an Argentine 61 year-old judge, was elected President of the International Criminal Court (ICC) for a three-year term with immediate effect.
Fernandez de Gurmendi worked as Director of Human Rights at the Minister of Cult and Foreign Relations, as well as legal councilor in the Argentine Mission at the United Nations, between 1994 and 2000.
She has also been Argentine representative at the Inter-American Commission on Human Rights (IACHR) and the Inter-American Court of Justice (IACJ), where she contributed to the creation of the international court she will now preside.