Belize representative elected OAS Assistant Secretary General
Thursday, March 19th 2015 - 08:27 UTC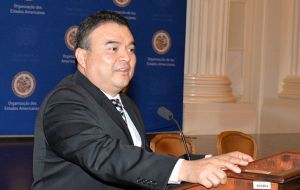 The General Assembly of the Organization of American States (OAS) elected on Wednesday the Permanent Representative of Belize, Ambassador Nestor Mendez, as the next Assistant Secretary General of the hemispheric institution.
The election of Ambassador Mendez took place in a vote in which he obtained 24 votes from the member states, compared with 10 received by the Permanent Representative of Guyana, Bayney Karran. The vote took place following the election of the former Foreign minister of Uruguay, Luis Almagro to the position of Secretary General.
Ambassador Mendez will succeed Assistant Secretary General Albert Ramdin on July 12.
Upon accepting the position, the Assistant Secretary General-elect said he stood before the countries that elected him to the post "with a clear mandate and an unwavering commitment to seize the opportunity that is before us to work together to transform the OAS into the Organization that we want and that the people of the Americas deserve."
He thanked the member states for their votes, calling it an important gesture for the Government of Belize, and recalled that his country, "considered an effective bridge between Central America and CARICOM has an important contribution to make to the Inter-American System, anchored in the fundamental principles enshrined in the OAS Charter, the Inter-American Democratic Charter and the Social Charter of the Americas."
"Therefore, I am honored to reiterate that commitment to the Inter-American System and to the people we all serve," he added.
"Today we begin a new stage in our organization; we look to the future with optimism that together we can change and improve this valuable Organization; it is a debt to the peoples of the Americas," he said.
Nestor Mendez has served as Ambassador of Belize to the OAS and to the Government of the United States since June 2008. He was an advisor to the Belize High Commission in London from 1997 to 1999 and holds a postgraduate title from George Washington in International Affairs.