Rousseff unveils anti corruption measures, but her approval has fallen to 13%
Thursday, March 19th 2015 - 07:32 UTC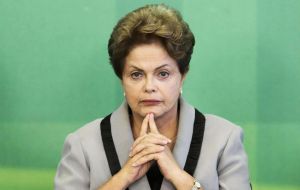 Brazil's Dilma Rousseff tried to get ahead of the storm of scandal bearing down on her presidency on Wednesday, unveiling a raft of anti-corruption measures she hopes will appease her critics.
Rousseff and her Workers Party have been tarnished by an investigation into a massive kickback scheme operated by the state oil giant Petrobras during a period when she chaired its board.
With street protests mounting and a series of arrests moving closer to her inner circle, she has prepared a package of legislation aimed at restoring her reputation.
"We are a government that does not tolerate corruption and we have the duty and obligation to fight impunity and corruption," she said.
The package includes bills to criminalize under-the-table campaign contributions, seize property from government officials who cannot document its origin and bar anyone with a criminal record from public office.
Rousseff, who was re-elected only five months ago, is reeling from nationwide demonstrations against her that drew over a million and a half of Brazilians into the streets Sunday.
Her approval rating has plunged to a dismal 13%, according to a poll published Wednesday, and the populist leader has presided over a sharp economic slowdown.
But it is the scandal at Petrobras, whose board she chaired during much of the period under review, which has her administration under siege.
Prosecutors say the state-controlled oil giant awarded inflated contracts to some of the country's biggest construction companies over a 10-year-period.
This generated a flood of dirty money estimated at some 3.8 billion dollars and used to bribe Petrobras officials and pay off politicians.
The 67-year-old president has not been personally implicated, and the Supreme Court on Wednesday rejected an opposition call to investigate her after a judge ruled the petition contained "technical errors."
But her popularity has taken a beating. Sixty percent of those surveyed in Wednesday's poll said they believed the country's economic situation was worsening, against 15% who thought it would improve -- the most negative result since polling firm Datafolha began asking the question in 1997.
The poll also showed fall-offs in Rousseff's popularity across all socioeconomic groups, as well as in areas considered regional strongholds by her party.
Disapproval of her performance was the highest for any president since Fernando Collor de Mello in September 1992, on the eve of his impeachment.
At the time, Collor resigned after Brazil's lower house voted to try him in a separate corruption scandal.
"Corruption offends and humiliates workers and minimizes the importance of honest toil," she said. "The time has come for Brazil to put an end to these crimes and practices."