Brazil's Real drops to lowest since April 2003; loss of 17% against the dollar this year
Friday, March 20th 2015 - 07:19 UTC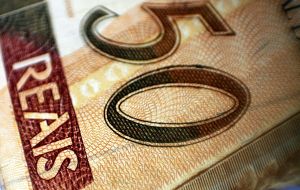 No end to Brazil's economic woes: the Brazilian currency depreciated 2.7% on Thursday, at 3.30 Reales to the US dollar, its worst performance since April 2003. With this loss of ground the Real cut short a three day recovery, because since last Monday it had been climbing against the greenback.
On Wednesday following on the US Federal Reserve statement down playing rumors that it was not in a hurry to raise interest rates, the Real managed to climb 0.9%, compared to Tuesday, and finished trading at 3.2017 to the US dollar.
So far this year, the Brazilian currency has lost 17% of its value vis-à-vis the US dollar, as a result of the political situation which is impeding the government of president Dilma Rousseff from passing legislation to balance an overblown budget.
To this must be added the discredit of the whole political system as the oil-giant Petrobras corruption scandal unfolds revealing to what extent the ruling party of Dilma Rousseff and her political mentor Lula da Silva, and allied parties were involved in the skimming of the country's largest company and a onetime icon of energy independence and power.
This was confirmed by the massive protests last Sunday in Brazil's main cities, when an estimated 1.7 to 2 million people turned out to the streets, while a second protest day is scheduled for April.
The erosion of the Real is also very bad news for Mercosur partners, such as Argentina and Uruguay which have close trade links with Brazil. For both countries Brazil is their main associate, particularly for manufactured goods which don't necessarily have the competition margin to attempt other markets.