Argentina as a 'live threat' to the Falklands, triggers fury from Buenos Aires
Wednesday, March 25th 2015 - 06:39 UTC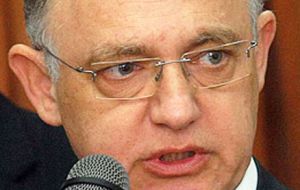 The government of President Cristina Fernandez accused the United Kingdom of using an alleged Argentine threat to the Falkland/Malvinas Islands in order to boost its military budget, while also claiming that the archipelago has been turned into an electoral campaign issue.
After UK Defense Secretary Michael Fallon announced earlier on Tuesday before Parliament that the British military garrison on the Falklands would be upgraded, because of what he described a "live threat" against the South Atlantic islands, the Argentine government lashed back with a terse statement.
According to the Foreign Ministry, headed by Hector Timerman, the UK is guilty of "bringing up the ghost of a supposed Argentine threat in order to increase the military budget," a move described as "unbelievable and absolutely unjustifiable."
Those abundant funds should be used in benefit of the British people, to combat unemployment, improve education and health services, and social inclusion: "you can't keep deceiving UK citizens and tax payers with ghosts from the past".
"It is a sad and regrettable paradox that on a 24 March, on the 39th anniversary of the 1976 military coup, which had the accomplice support of many world powers, the Malvinas are used as a political campaign issue in the UK and there is an invocation of a war initiated 32 years ago by a genocide dictatorship, the greatest political, social, economic and cultural tragedy of the Argentine people".
Further on the release states that the Fallon announcement deliberately ignores that the search for a peaceful solution to the sovereignty dispute over the Islands is a State policy from an Argentine solid democracy which has the support of all political groupings with legislative representation.
Finally the release calls on the UK government to abide by the over 40 UN resolutions calling for negotiations on the Falklands/Malvinas, and also mentions the many statements from regional organizations which have made of the Malvinas Question a Latin-American cause.