Brazil central bank will cease forex intervention program as of April
Thursday, March 26th 2015 - 09:07 UTC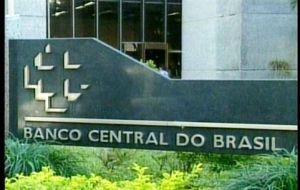 Brazil's central bank announced on Tuesday it will not extend its currency intervention program past March 31 as a combination of political problems at home and fears of higher U.S. interest rates push the Real near its lowest levels in a decade. The bank will, however, roll over all swaps expiring after May 1.
The Brazilian Real has been one of the worst performing currencies this month losing 10% against the dollar. While all emerging market currencies have suffered from fears of higher U.S. interest rates, a number of domestic problems have further weighed on the Real.
Among those issues are Brazil's current account deficit and a massive corruption scandal at Petrobras, as well as uncertainty about the approval of austerity measures proposed by President Dilma Rousseff, whose political coalition is increasingly fragmented.
Likewise the central bank's strategy to intervene in the foreign exchange market had also added to the long list of problems weighing on the Real. The central bank also said it will sell dollars with repurchase agreements if it needs to boost liquidity in the forex market.
The bank said if deemed necessary it may also use "additional foreign exchange instruments at its disposal" to stabilize the exchange rate. The foreign exchange program has provided investors with a daily supply of currency swaps, derivatives that offer protection against currency losses, since August 2013.
The bank has recently been offering 100 million dollars worth of currency swaps in daily auctions Mondays through Fridays.
The Real had been kept largely over valued during the past few years as President Rousseff resorted to a number of unconventional policies to fight inflation. Since re-election to a second term in office starting this year, however, she has been trying to change course.
Economists welcomed the end of the currency intervention program, which they said not only created economic distortions but had also become increasingly ineffective and expensive.
"A very welcome move and a step forward to facilitate the needed macroeconomic adjustment," Goldman Sachs' senior economist Alberto Ramos said in a note to clients. "In our assessment, the central bank has intervened excessively in the forex market over the last 19 months."
Under the program, the central bank offered investors a daily supply of currency swaps, derivatives that provide protection against currency losses, and the stock of those swaps currently stands at around 113 billion, an amount the central bank considers enough to meet investors' demand for hedging.