Falklands' main import trading partner is the UK with 87% of all goods
Thursday, March 26th 2015 - 14:41 UTC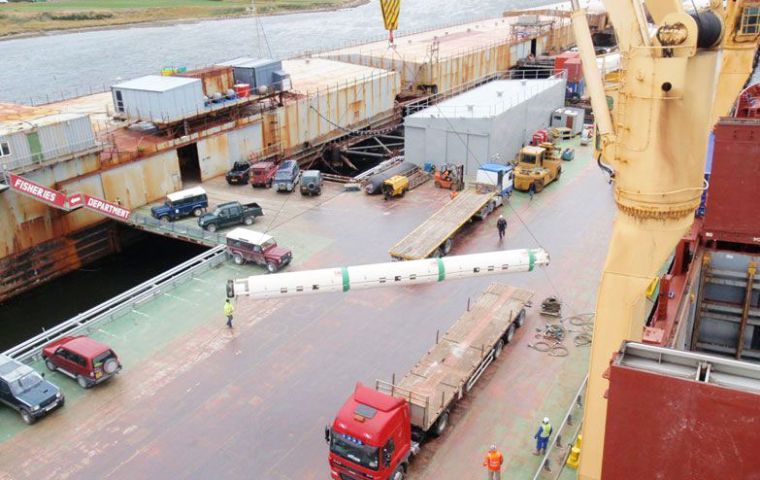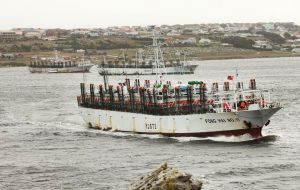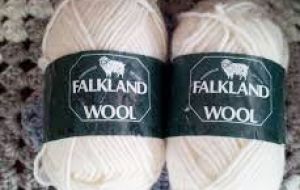 The United Kingdom is the main import trading partner of the Falkland Islands with 87% of all imported goods coming from the UK in 2012 (Customs and Immigration 2013) with the rest imported mostly from Chile and Uruguay, according to the latest report on the Falklands' "State of the Economy".
The total for imported goods in 2012 was estimated at around £136 million including bunker fuel and other imputed adjustments excluded from the Customs statistics.
Bunker fuel is by far the Falklands' largest imported good in terms of value.
The value of imported services was approximately £260 million in 2012 with support services to oil and gas extraction making up £167 million of the figure. However the figures are temporarily high because of oil and gas exploration. A considerable amount of the rest is estimated to be services for the transport industry and fishing e.g. repairs and maintenance carried out overseas, container handling and cold storage services by foreign companies.
The total value of all imports for 2012 was £396 million.
Regarding exports fish products have been by far the largest item. According to Customs and Immigration data the value of fish caught in the Falkland Islands in 2012 was £184.5 million (Customs and Immigration, 2013). Almost all of this was exported. However this value is highly volatile depending on fish catches and world prices. For example, in 2009 the value was just £76.4 million.
The second largest exported good is wool, which accounted for £5.4 million in 2013 (Agricultural Advisory Committee, 2014). Wool exports are much more stable compared to fish. However, the total value has been decreasing since a peak year in 2011 of £6.5 million and is also affected by world prices. Lamb and mutton exports have been increasing over the years generating over £2 million of export revenues (FIMCO, 2013). There have been small irregular beef exports with the last shipment in 2010, but most produced beef is not exported due to strong domestic demand.
Tourism was estimated to generate around £9.5 million in 2012 (Falkland Islands Tourist Board). Most of this was generated from arrivals by air rather than by sea.
Other services are exported but limited data is available on them.
Thus the Falklands' trade deficit of £176 million, or 80% of the value of exports can be estimated. But it must be taken into account that most of this is related to oil and gas exploration and reflects investment into oil and gas assets which are meant to generate revenues in the future, rather than final consumption of goods and services.
Excluding imports of support services to oil and gas extraction, the trade deficit shrinks to around £9 million.
Again excluding support services to oil and gas extraction value of imported goods and services would correspond to 116% of GDP. This is similar to other small countries like Seychelles (115% in 2013) or Lesotho (114% in 2012) but smaller than Singapore (173% in 2012) or Hong Kong (224% in 2012) (The World Bank, 2014).
Exports in the Falklands were 111% of GDP similar to Macao (109%), Maldives (111%) and Ireland (108%). Such high figures mean the Falkland Islands are very much integrated into the world economy. The economy is highly dependent on just a few export products and the demand for them in key markets, concludes the State of the Economy report on the Falklands foreign trade.
Last but not least when talking trade it must be taken into account that a limited amount of goods are produced on the Falkland Islands, and most need to be imported, including petroleum products, food, vehicles, machinery, construction materials etc. Furthermore the Islands have limited transport links to the rest of the world, with regular shipping services to South America and the United Kingdom.