Falklands' conflict hypothesis: Argentine Mirages are banned from flying on cloudy days
Saturday, March 28th 2015 - 09:47 UTC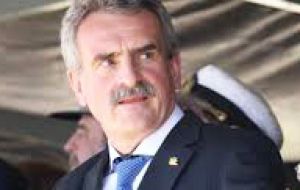 The Argentine government and media agree that the country does not have the military capacity to attack the Falkland Islands as feared by Britain. A report in daily La Nacion points out the Argentine armed forces lack landing crafts, troop transport vessels and even the Mirage fighter planes are banned from flying on cloudy days because of repeated problems with their instruments.
Earlier this week UK Secretary of Defense Mike Fallon told Parliament that Argentina remains "a live threat" for the Falklands and announced a beefing up of the Islands' defense, based on an ongoing review. This included the return of two Chinook helicopters that had been sent to Afghanistan; an upgrading of communications and the Rapier land-air missile system plus an additional approximately 260 million dollars ten years for infrastructure and improvement of living conditions of personnel.
However Argentine Defense minister Agustín Rossi said that Argentine forces are not programmed to invade any country and do not have the 'logistics capacity' to attempt any military actions in the Malvinas Islands or any country.
"We have no conflict hypothesis. We are programmed for a defense policy based on the development of our capabilities", said Rossi who denied point blank any consideration of purchasing Russian fighter jets, as reported in the UK media because they are simply 'inaccessible given their value".
However he admitted aircraft offers from Spain, Israel, China and France to replace the Mirages to be decommissioned at the end of the year.
La Nacion report points out that Argentina's military capability is far from what it was in 1982, when the invasion of the Falklands.
"In a theatre of insular war, the attackers must ensure control of the air and the sea. In this hypothesis Argentina currently has only the capacity to occupy the Martin Garcia island (a minimum sandy territory shared with Uruguay in the River Plate)" explained Daniel Gallo an analyst from La Nacion.
"Argentina can't even reach the Malvinas with men equipped for combat. Beyond any wish or fantasy of domestic policy, the 650 kilometers separating the Malvinas islands are an insurmountable barrier", he added.
Gallo added that Argentina lacks landing and transport vessels, and not even icebreaker Almiarante Irizar is operational to be used as a logistics platform as happened during the 1982 conflict. "This only tactical situation eliminates any other possibility".
Likewise Argentina does not have the appropriate air fighters. The Mirages are not combat operational but are also banned from flying when clouded because of repeated problems with the instruments. Furthermore despite the different offers to purchase a squadron (18 aircraft) these would not be arriving or be operational until at least two to three years. When the Malvinas war, Argentina had over 120 first line combat aircraft.
The Argentine navy back in 1982 had an aircraft carrier, "25 de Mayo" and several surface units. But the carrier in 1989 was decommissioned because of lack of budget and was broken up in India. No amphibious vessels are available. The Hercules destroyer was converted into a quick transport which can carry 150 marines and the Santisima Trinidad went down while docked, concludes the report.