Falklands' defense: Argentina formalizes complaint to UN and regional groups
Tuesday, March 31st 2015 - 08:52 UTC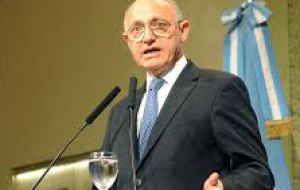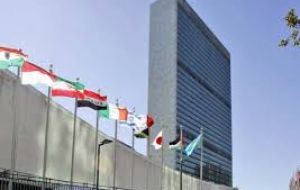 Argentina dispatched on Monday complaint letters to several international and regional organizations accusing the United Kingdom of further militarizing the Falklands/Malvinas, with an increased budget, alleging Argentina represents a 'live threat' to the Islanders in the British Overseas Territory and thus ignoring tens of resolutions calling for dialogue between the two sides on the Falklands issue.
In the letters signed by Foreign minister Hector Timerman the Argentine government argues that the UK alleges a preposterous 'live threat' from Argentina with the sole purpose of trying to justify a military presence in the Falklands only comparable to that of a colonial power, and recalled Argentina's concern about British militarization in the South Atlantic, concern shared by all the region in block and which has been a matter of rejection by multiple international forums since it creates and unnecessary and unjustified tension in the South Atlantic, a zone characterized by its peace vocation free of nuclear arms.
Given that both sides (Argentina and UK) have the obligation of finding a solution to the controversy (based on the UN and other organizations resolutions) the UK confirms with its announcement that "it relies on an arms buildup and war mongering". Completely the opposite of the Argentine position which supports dialogue and negotiations and complying with International law, which must prevail to overcome international controversies and to put an end to this anachronic colonial situation ongoing for over 182 years.
To that respect the UK must sit at the negotiations table as established by Resolution 2065 passed by the UN General Assembly over 50 years ago and reiterated in over 40 resolutions from the Assembly and its Special Committee on Decolonization, or C 24.
The letters complaining about UK defense plans in the Falklands, were addressed to United Nations Secretary General Ban Ki-moon; to the Secretary General of the UN C24 Committee; OAS Secretary General; Unasur secretary general; to the Uruguayan foreign ministry since the country holds the chair of South Atlantic permanent peace and cooperation zone; to Ecuador's foreign ministry since the country is the pro-tempore chair of CELAC; Brazil's foreign ministry because Brasilia is currently chair of Mercosur and the South African representative before UN since that country holds the chair of the Group of 77 plus China.