Cristina Fernandez will visit his close new friend Putin on April 22/23
Friday, April 10th 2015 - 00:44 UTC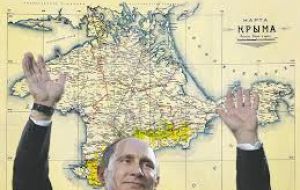 Argentine President Cristina Fernández will be heading to Moscow in just under two weeks upon invitation from Russian President Vladimir Putin to mark 130 years of diplomatic relations between the two countries. The announcement of the president's 22/23 April visit to Russia came amid news that she would also visit Pope Francis in the Vatican on June 7.
Putin made an official visit to the Buenos Aires in July 2014, during which time the two countries signed energy and cooperation deals (including construction of a nuclear power plant) and the upcoming visit will seek to discuss the implementations of those deals and seek to expand investment opportunities. New agreements may be signed, although there was no immediate information on the nature of any further accords.
A press release issued by the Kremlin said that "Mr Putin and Ms Fernández de Kirchner will also examine the current international agenda, including bilateral relations and work in multilateral organizations such as the UN, the G20, and regional integration associations."
Cristina Fernández has been supportive of Putin's controversial actions in Crimea, while the Russian leader has become a staunch supporter of Argentina's claims over the Falklands.
Argentine political analyst columnist Joaquine Morales Solá recently wrote that Cristina Fernandez has implemented a radical change in the country's foreign policy by considering priorities links with China and Russia, leaving aside more long standing positions such as Brazil, Europe and the US.
Accompanying Cristina Fernández will be a multi-sector delegation drawn from the private sector that will seek to broaden bilateral trade. As such, the president will participate in a Russian-Argentine business forum and will meet with business leaders.