Fitch Ratings lowered Brazil's investment grade outlook to negative
Friday, April 10th 2015 - 05:26 UTC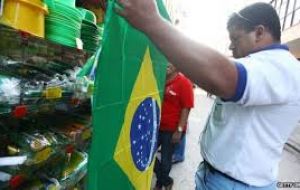 Fitch Ratings lowered Thursday the outlook on Brazil's investment grade BBB rating to negative, warning that government efforts to turn around the economy risked getting derailed. The Brazilian economy, the world's seventh-largest, stagnated with just 0.1% growth last year as the drag of rising inflation erased the effect of hosting the football World Cup in June and July and gearing up for the Rio Olympics next year.
"Brazil's continued economic underperformance, increased macroeconomic imbalances, deterioration of fiscal accounts and a material increase in government indebtedness are increasing downward pressure on the sovereign credit profile," Fitch said in a statement.
"Brazil's three-year growth average of only 1.5%, compared to the 'BBB' median of 3.2%, highlights the structural nature of the under-performance," said Fitch. A recession of 1.0% is expected this year.
Of the BRICS group of emerging economies -- Brazil, Russia, India, China and South Africa -- Brazil posted the lowest growth for 2014.
The government of President Dilma Rousseff has launched an effort to turn the economy around, which Fitch said "if effectively implemented, could lead to a revival in confidence and growth in 2016 and beyond..."
But it noted "downside risks" to its effective implementation, warning "additional domestic and external shocks could undermine the pace and scope of the adjustment process."
A 4-billion dollars kickbacks scandal at state oil giant Petrobras has tarnished Brazil's largest company and President Dilma Rousseff's party.
Rousseff, who began her second term in office this year, has seen her approval rating plunge to 19%, and more than 1.5 million Brazilians took to the streets last month to protest her government.
Fitch said "the government could confront challenges in progressing on its legislative agenda, which is important for it to meet its fiscal targets and restore broader confidence."
Rival ratings agency Standard & Poor's last month held its rating for Brazil at BBB-, the lowest investment grade rating, instead of downgrading it to junk, after the government convinced the agency is serious about economic reforms.
Moody's has Brazil rated at Baa2, a similar level to Fitch, with the outlook negative but not on watch for an immediate downgrade.