Five Falklands' oil companies accused of violating Argentine law and UN resolutions
Friday, April 10th 2015 - 00:25 UTC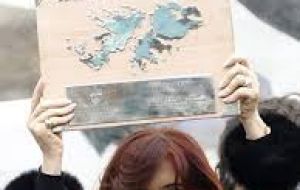 Argentina's government on Thursday formally accused five oil companies of conducting illegal exploration work off the British-ruled Falkland Islands, which Buenos Aires claims as its own. The companies are Britain's Rockhopper Exploration plc, Premier Oil plc and Falkland Oil and Gas Ltd; Houston-based Noble Energy Inc.; and Italy's Edison International SpA, Argentina's Foreign Ministry said in a statement.
Those companies, grouped as a consortium, hired a semisubmersible rig that began exploring the North Falklands Basin last month in preparation for the drilling six wells, the ministry added.
In announcing the start of legal action, President Cristina Fernandez accused the companies of "carrying out hydrocarbon exploration activities on Argentina's continental shelf without obtaining the corresponding authorization from the Energy Secretariat."
The secretary for Matters Relating to the Malvinas, Daniel Filmus, accused the consortium of violating Argentine law and U.N. resolutions that urge both countries "not to introduce unilateral modifications" while a solution to the sovereignty dispute remains pending.
On Thursday, Argentina's government summoned British Ambassador John Freeman to inform him about the legal action against the oil companies and to demand explanations for documents provided by former U.S. intelligence contractor Edward Snowden showing that Britain tasked one of its spy agencies with thwarting Argentina's push for sovereignty over the Falklands.
On Wednesday Argentine ambassador in London Alicia Castro was summoned to the Foreign Office regarding president Cristina Fernandez speech on 2 April, 33rd anniversary of the Argentine military invasion of the Falklands which triggered a 74-day war.
The Foreign Office underlined at the meeting that the UK has no doubts about its sovereignty over the Falklands, and adjoining maritime spaces, as well as the Falkland Islanders right to decide their own future and develop their economy and resources.