Brazil raises estimates of corn and soybean harvests, helped by late rainfall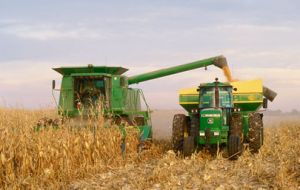 Brazil raised estimates for both its corn and soybean harvests, citing rains which had come in time to boost yields of later planted crops, besides boosting expectations for safrinha corn. The official Conab crop bureau lifted by 1.0m tons to 94.3m tons its estimate for Brazil's soybean production in 2014-15, as late rainfall helped results "surprise positively" in particular in central areas.
While early-sown soybeans were hit by a "scarcity of rainfall", precipitation arrived in time for the flowering and grain-filling period for later planted crop. The revised estimate compares with the US Department of Agriculture's 93.5m-tonne figure, from last Thursday.
For corn, Conab raised its harvest estimate by 780,000 tons to 79.0m tons – well above the USDA's 75.0m-ton forecast. Conab cited increased expectations for both its so-called main crop, and the (actually larger) second, or safrinha, crop sown early in the calendar year, typically on land vacated by the soybean harvest.
Most of the revision related to the main crop, which was upgraded by more than 570,000 tons to 30.3m tons, of which more than half pertained to the southern state of Rio Grande do Sul.
Rio Grande do Sul "consolidated its position as the leading national producer of first-harvest corn, surpassing Minas Gerais… dashing preconceptions that the state does not have the soil and climatic conditions to allow strong yields", Conab said.
The estimate for Brazil's second-crop harvest was lifted by a little over 200,000 tons to 48.7m tons, as a raised estimate for sowings in the top producing state of Mato Grosso more than offset the dent for a lower plantings figure for north eastern Brazil.
Even though some 10% of Mato Grosso's safrinha corn sowings were undertaken after the closure of the recommended planting window, current conditions, marked by "abundant" rainfall and spurred expectations of a "good yield levels", Conab said.
Rainfall had proved "excessive" in Parana, the second-ranked safrinha corn state, delaying plantings. Nonetheless, the bureau stuck with an estimate of a state harvest of nearly 10m tons.
However Conab added that a return of overly dry conditions could yet dent production of safrinha corn, which is the source of most of the country's export supplies.
"The farmer will follow the evolution of the weather with close attention, knowing that the rains of April and May will be key to ensuring crop success," with frost a threat in some areas too, the bureau said.
The latest estimates from Conab indicate that Brazil's grain and oil seed 2014/15 crop could reach 200.7 million tons, or 7.1m tons more than the last estimate of 193.6m tons. As to the area planted, the total for the current crop reached 57.33 million hectares, with soy increasing 4.4% to 31.5m tons, from 30.17m tons.