Malvinas Secretary Filmus to talk about Falklands and oil in London
Friday, April 17th 2015 - 04:12 UTC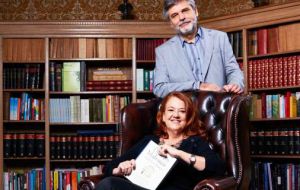 Argentina's Secretary for Malvinas Islands Affairs, Daniel Filmus will be giving a conference on Friday in London on the Falkland Islands sovereignty dispute with the UK and the current round of oil drilling offshore the Islands, in what Argentina considers its territory.
According to Filmus Facebook, the conference "Militarization and the Illegal exploration for oil in the South Atlantic: the Argentine response" follows on a similar and successful event held in Paris on the sidelines of the Unesco congress on Wednesday.
Ambassador Alicia Castro in London will be the host of honor at the conference that is expected will be attended by diplomats, academics, union leaders, British and foreign students. In mid morning Friday Filmus will be holding a press round with Argentine and international media.
According to Argentine sources, Filmus is expected to reply to recent statements by Defense Secretary Michael Fallon referred to the updating of the Falklands' defense capability since Argentina represents a 'live threat' to the people of the Islands, an argument rejected point blank by the Cristina Fernandez government.
Another issue are the political, legal and environment implications of the hydrocarbons exploration in waters close to the Malvinas Islands, an operation which Argentina considers 'illegal and illicit'.
It is also possible that the Argentine politician reveals to the media new details about the UK spying on the country, which surfaced following disclosure from former US NSA staff member Edward Snowden and published in "The Intercept".
With the UK three weeks away from May 7 general election which has no clear winner the impact of the conference and the meeting with the media, will be hard to assess.