Pope Francis to visit Ecuador, Bolivia and Paraguay next July
Friday, April 17th 2015 - 04:32 UTC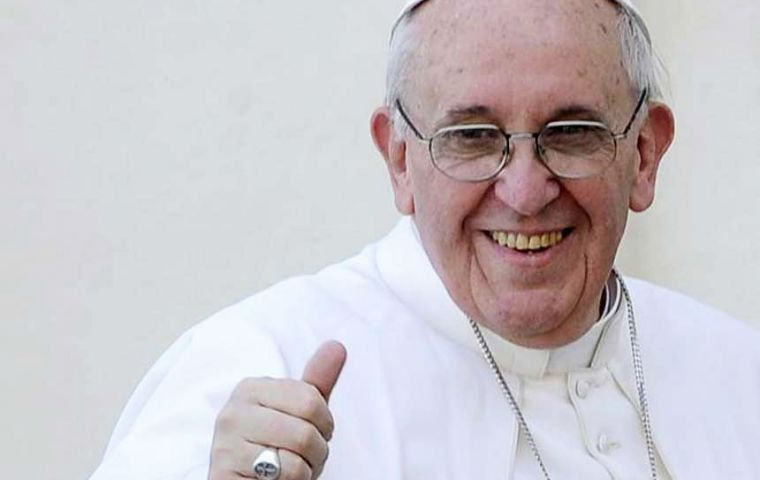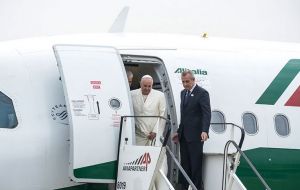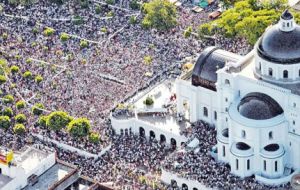 Pope Francis will make his first visit as pontiff to Spanish-speaking Latin America in July, stopping in Ecuador, Bolivia and Paraguay, the Vatican said Thursday. The pope will kick off his trip in Ecuador on July 6, then travel to Bolivia on July 8 and wrap up his tour in Paraguay from July 10 to 12.
A native of Argentina, Francis visited Portuguese-speaking Brazil in July 2013 but has not returned to Spanish-speaking Latin America since becoming pope.
The three countries on his itinerary are among the smallest and poorest in the region, which is home to more than 425 million Catholics -- nearly 40% of the world's Catholic population, according to the Pew Research Center.
More than 80% of the population is Catholic in all three countries -- nearly 90% in Paraguay. The Vatican said a detailed itinerary of the pope's visit would be published soon.
However the latest reports indicate that the Pope could make a 'technical' stop in Cuba on his way to South America. Francis, as admitted by both sides, was instrumental in bringing together Cuba and the US, and ending over half a century of conflict and frozen contacts.
In Ecuador, where the pope will visit Quito and Guayaquil, President Rafael Correa said the country was "celebrating."
"Welcome Pope Francis! We will work with all our energy so that his visit, like that of John Paul II 30 years ago, will be unforgettable," he said.
Local reports said the pope's itinerary may include visits to the Paraguayan cathedral at Caacupe, which houses a statuette of the Virgin Mary that draws hundreds of thousands of pilgrims every year, and one of Bolivia's largest prisons.
According to a still unconfirmed program the 78-year-old pontiff is to arrive in Quito July 6 and meet that day with President Correa. He will say Mass the next day in Quito's Bicentennial Park, according to the Rev. Luis Cabrera, archbishop of Cuenca.
Francis will meet later on July 7 with educators and the public, Cabrera said, and will consult with priests and seminarians on July 8 at the Quinche shrine near Quito.
The pope is to fly that afternoon to La Paz, where Roman Catholic officials say he will spend just six hours because of the 3,993-meter altitude. He is to say Mass at the capital's sister city, El Alto. Nevertheless Francis would spend two days in the eastern lowlands city of Santa Cruz.
In September, Francis is to travel to the United States, and at the end of the year, he plans to visit the Central African Republic and Uganda.
Francis has said he hopes to visit his native Argentina, Chile, and Uruguay in 2016. He has also promised to visit Peru and Mexico at some point in the future, and said he would return to Brazil in 2017.
The Pontiff has made seven apostolic journeys outside Italy, traveling to Brazil (July 2013), the Holy Land (May 2014), South Korea (August 2014), Albania (September 2014), the European Parliament (November 2014), Turkey (November 2014), and Sri Lanka and the Philippines (January 2015). A trip to Bosnia and Herzegovina is scheduled for June.