Making the Falklands safe: clearing mines from the 1982 conflict
Saturday, April 18th 2015 - 10:32 UTC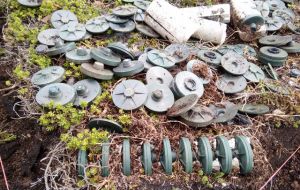 Falkland Islands former minefields that have been cleared by BACTEC International's (*) deminers are, "cleared to a higher quality than the areas that are outside the fences," assured Project Manager Julius Unsing, speaking to Penguin News this week.
Members of the community are invited by Bactec to a public demonstration on April 23, between 10 and 11am that will exhibit exactly how safe the areas are.
Mr Unsing said those attending will not have to enter the former minefields, "but we are more than happy for you to come and join us inside where we will take a walk through what was the minefield by way of an assurance that what was in there is no longer there."
This public demonstration will be co-hosted by the Demining Programme Office (DPO).
He added: I do value my legs very much so I would not be walking through myself if I wasn't 100 per cent sure."
When Argentine forces landed in the Falkland Islands in April 1982, they planted an estimated 20.000 antipersonnel and 5.000 anti-vehicle mines, to protect their positions against the advancing British task force which recovered the Islands by the following June. Anywhere between 8 and 10 thousand still remain.
Bactec International is contracted by the Foreign and Commonwealth Office to conduct the mine clearance on Phase 4 of the current minefield project in the Falklands. The team of 70 (including 63 Zimbabwean deminers) will shortly leave the Islands for the winter season, returning again in September.
During this most recent phase they have predominantly worked on 11 minefields along the MPA road and completed nine of those.
The tenth is in the 'battle area clearance stage' and the eleventh will, "likely be mostly finished but there are a couple of areas at the final end which means we will need to put it into suspension," said Mr Unsing.
When they return they will, "finish off the best part of the 25 areas that have been allocated during this phase of the project," he explained.
Speaking of the operation itself he said it begins with a detailed analysis of all the minefield records and information. Based on that analysis, which is known as a Non Technical Survey supported by a ground reconnaissance which confirms the information contained within it.
"A site implementation plan is submitted and agreed by the DPO which gives us a start point. On that start point we use a combination of mechanical or manual access," said Mr Unsing.
The former involves the use of either a machine or machines with a flail attachment; a series of hammers connected on the ends of chains which strike the ground very hard and disrupt any mines which they may come across, "although that is not the intention," he explained.
They might also use another machine (a Micro Mine Wolf) with a tiller attachment which tills the grounds with a series of chisels and achieves the same, but is used on different ground conditions.
Mr Unsing said: "Once that is done there is a manual follow up to prove that this processed ground is free from mine threat and exploit any evidence we may have found. Once a number of mines in their row or rows have been discovered, the mechanical machines are used to create safe access lanes adjacent to or between the rows to allow the deminers to manually excavate the short distance out to the mines, "which then saves us time and effort."
Once identified mines are left in place until recorded with an individual number, and then either destroyed in situ if they cannot be moved (although most of them are not in that condition). The mines are most often made safe and moved, usually to Pony's Pass Quarry where they are destroyed by burning. Those that cannot be
moved will be destroyed in situ or moved the shortest distance possible to a stockpile and then destroyed by demolitions.
A new and valuable asset in the team's tool-box is a drone. Mr Unsing explained: "The tool-box predominantly consists of our mechanical machines, manual excavation which is our men, and then finally a new asset which is our drone fitted with a video camera…"
This is used to overfly likely mined areas, "and the evidence we are looking for is end of row markers; or other markers such as red or yellow painted stones or piles of stones and mines themselves where they have been surface laid. This has already proved successful… we have identified a mines dump area which is an area where mines are located prior to them being laid. That area has in the region of 250 mines plus and it has saved us at least a week's work."
Argentina declared to the UN that approximately 20,000 anti-personnel and approximately 5,000 anti-vehicle mines were laid by them in 1982.
There was considerable clearance done in 1982 after the war so the estimate of what remained in the ground before work started in 2009 was a total of approximately 16 to 18,000 mines however this is only an estimation. These numbers are based upon the Argentine mine laying records which were available for 82 out of 148 areas that may or may not contain mines. As of today there are 102 areas left to process. Since 2009 clearance work has accounted for and disposed of some 8.084 mines.
(*) BACTEC (Battle Area Clearance, Training, Equipment and Consultancy)