Gazprom and YPF will sign agreement to develop Argentina shale oil and gas deposits
Wednesday, April 22nd 2015 - 05:55 UTC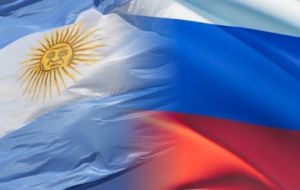 Argentine energy company YPF CEO Miguel Galuccio is scheduled to sign on Wednesday in Moscow a contract on joint exploitation of shale oil and gas in the rich Vaca Muerta fields of Patagonian province Neuquén. The contract is part of the bilateral agenda to be addressed by visiting Argentine president Cristina Fernandez on Thursday, when she meets with Vladimir Putin.
YPF and Russia's powerful Gazprom International are expected to conclude a Memorandum of Understanding (MOU) during Galuccio's visit to Moscow.
The large shale oil and gas deposit in western Argentina's Vaca Muerta was discovered in 2011 and is estimated to hold one of the world's largest reserves of shale-based hydrocarbons. However the development of the reserves needs huge financial investments which Argentina currently lacks as the country is absent from world financial markets.
Another issue of great importance for Russia is agriculture supplies, an issue that will also be addressed on Thursday with the purpose of increasing bilateral trade, according to Russia's agriculture watchdog, Rosselkhoznadzor.
"Rosselkhoznadzor chief Sergei Dankvert will meet with Argentine officials on Thursday in the framework of the Russia-Argentina Intergovernmental Commission on Trade and Science Cooperation to discuss the prospects of increasing the volume of bilateral food trade," Alexei Alekseenko, an aide to the head of the Federal Service for Veterinary and Phytosanitary Surveillance told RIA Novosti.
Alekseenko said that the volume of Russia-Argentina food trade in 2014 reached 1.3 billion dollars.
In light of souring relations with the West in 2014 over the crisis in Ukraine, Moscow has significantly increased its trade and economic cooperation with countries from Latin America, BRICS and the Asia-Pacific region.
Earlier in 2014, Alekseenko said that Russia expected to increase bilateral trade with Argentina to 3bn in 2015, a significant increase from the 2013 1.9bn trade turnover.
President Putin visited last July Argentina and Cristina Fernandez has described relations with Russia as 'strategic', given the complementation of the two economies. On the political ground, Argentina has supported Moscow in its conflict over Crimea and Ukraine. Likewise Russia openly supports Argentina in its dispute over the Falkland Islands sovereignty.