Petrobras receives financial support from China and local banks
Wednesday, April 22nd 2015 - 06:35 UTC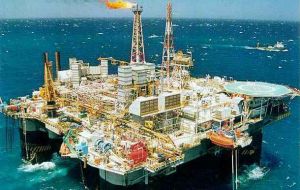 Brazilian state-run oil company Petrobras approved a series of financial agreements with local and international banks that will meet its financing needs in 2015, the company announced. In a filing with local stock regulators, Petrobras said that the deals will provide the company with access to about 6.2 billion dollars, including a 3.5bn financing contract reached with China Development Bank on April 1.
"These financial operations, together with others executed this year, will meet the company's financing needs for 2015," Petrobras said.
Petrobras had been faced with a cash crunch after the company was cut off from global capital markets typically used to fund operations and investments last year.
Petrobras delayed the release of third-quarter and full-year 2014 audited financial statements as the company struggled to account for asset write-downs related to corruption. Without up-to-date financials for prospective investors to examine, Petrobras was unable to sell bonds or other financial instruments.
The financial squeeze forced Petrobras to slash 2015 investments by 30% to 31/33bn, with additional spending cuts expected in 2016 and 2017. The reduced spending will also lead to a downward revision in the company's 2018 production target of 3.2 million b/d.
The deals announced include a Real 4.5 billion (1.48bn) export-credit note with Banco do Brasil, where current Petrobras CEO Aldemir Bendine worked before taking over the state-run oil company in February.
Petrobras also has a Real 2 billion standby credit line with state-run Caixa Economica Federal, as well as a Real 3 billion standby credit line with publicly traded Banco Bradesco.
Petrobras also signed a 3bn cooperation agreement with Standard Chartered Bank that involves the sale and leaseback of production platforms. The company did not disclose which platforms would be sold to Standard Chartered and then leased back to the company.
Now that Petrobras' 2015 financial needs have been met, the company said it is looking to the future.
"Petrobras will continue to evaluate financing opportunities with the objective of anticipating part of its 2016 needs," the company said.
Petrobras also reiterated that it would not be selling fields in the highly productive subsalt region to meet its funding needs.
In March, the company announced a divestment program aimed at selling off $13.7 billion worth of assets over the next two years. About 30% of the assets will come from the exploration and production segment, 30% from the refining and distribution unit, and 40% from the gas and energy unit.