South Georgia completes third phase of rodent eradication project
Wednesday, April 22nd 2015 - 15:31 UTC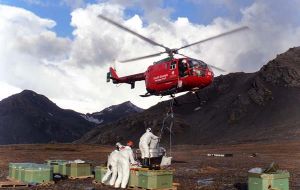 The Falkland Islands government will be holding this week a reception for the team involved in the world's largest attempted rodent eradication project, in windy South Georgia, which completed the current baiting phase at the end of March.
According to the March edition of the South Georgia Newsletter, after several frustrating weeks when one helicopter was put out of action after being damaged in a storm, and poor weather prevented the remaining two helicopters flying for weeks on end, the SGHT (South Georgia Heritage Trust) Habitat Restoration Project field team's patience was rewarded.
The job was completed by grabbing a few flyable hours here and there, when the wind was low enough and visibility good enough, to bait the tricky areas at the far south-eastern end of the island. One of the most difficult zones was the area around the field camp at Cape Charlotte, a very windy area which was the last area to be completed.
Baiting to remove the introduced rats that have had a devastating effect on the native populations of birds on South Georgia began four years ago. The trial area was in the centre of the island and, when that succeeded, the vast north-western section was then baited two years later.
The work is not yet finished and, with the season drawing to a close, the team are busy installing and checking monitoring devices in the Phase Two area to see if any rats remain there, and they will be clearing up equipment before the team and all the kit and helicopters are picked up by ship this month. The next step will be to monitor all the baited areas to see if the baiting has been successful in all areas of the island.
On completion of the Phase Three baiting, Project Leader Tony Martin wrote, "I have long thought about this moment. In many ways it has been the main aim of my professional life for the last five years, and at times seemed so far away, so I expected a sense of exultation when it finally arrived. Strangely, though, I watched that last load depart with mixed feelings. Overwhelmingly, I was relieved that this major goal has been achieved safely …...A third intense, exhilarating, frustrating, memorable field season is at an end!"