Volcano ashes fog Buenos Aires and blanket several Patagonian provinces
Saturday, April 25th 2015 - 05:58 UTC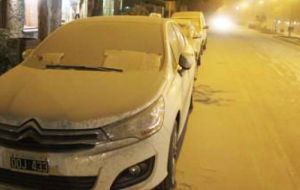 The eruption of Chile's Calbuco volcano has resulted in a cloud of ash beginning to spread on Friday into the City of Buenos Aires while the alert in southern cities of Argentina remains.
The cities of Bariloche (Río Negro province), San Martín de los Andes (Neuquén province) and the locality of Villa La Angostura (also in the province of Neuquén) woke up on Friday with a blanket of fog and mounds of ash blocking roads. Hospitals there are only working for emergency situations while school classes have been suspended.
Flights in the airports of Bariloche, Neuquén and San Martín de los Andes have been cancelled while authorities were monitoring arrivals and departures in Buenos Aires.
At the Ezeiza International Airport, American Airlines (Dallas, Miami and Nueva York) and Air France (Paris) cancelled flights scheduled for Friday, while airport authorities continued to watch closely wind and visibility conditions.
President of Aerolíneas Argentinas Mariano Recalde confirmed airports in Bariloche, Neuquén and Chapelco have been closed as a result of drifting ash. "Most likely, these airports will continue shut over the upcoming days due to the wind and the ashes," Recalde told media.