Bachelet admits not acting quicker to address political scandals
Monday, April 27th 2015 - 10:27 UTC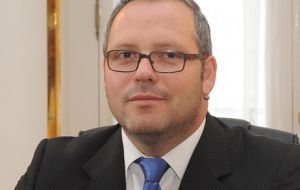 Chile's President Michelle Bachelet expressed regret for not having acted quicker and more aggressively to address a raft of political scandals that have alienated voters and dragged her popularity to an historic low
In recent weeks, national headlines have been dominated by illicit campaign financing scandals, involving politicians from a conservative party and her own family.
Late dictator Augusto Pinochet's legacy right-wing UDI party are under investigation for invoicing lithium producer SQM and financial group Penta for services that were never provided.
Separately, Bachelet son Sebastian Davalos is accused of having used his political connections to help his wife gain preferential access to a 10 million dollar loan used for a real-estate deal. In February, he was forced to step down as cultural director at the presidency.
"I didn't condemn these ethically imprudent acts that we all know about in a timely or aggressive enough manner," said Bachelet. "The situation is painful for many, and certainly for me, and it will likely affect us for some time to come."
"Bachelet said she will soon present a set of measures to address the issues of corruption, conflict of interest and the delicate balance of politics and money.
A special committee was set up to study the matter and after 45 days of work handed Bachelet 21 recommendations on Friday.
"Lately we've become aware of numerous irregularities, illegalities and corruption in politics and business and in the relationship between them. What few knew before is now obvious to all," said Bachelet. "It is time for sincerity and for action".