Falklands after a more proactive immigration policy for controlled population increase
Monday, April 27th 2015 - 07:27 UTC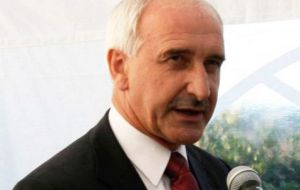 Falkland Islands is reviewing its immigration policy and is urging a more proactive attitude with the purpose of increasing the permanent resident population and encouraging controlled growth, but this must be a discussion amongst Islanders and elected lawmakers. The Falklands according to the latest census from 2012 has a population of approximately 3.000.
"We are by nature a country of immigrants," Member of Legislative Assembly Mike Summers reminded other Members when presenting a bill urging proactive immigration policies.
The Bill which was supported by the House noted: "This House urges the Immigration Review Group to present policy options aimed at increasing the permanent resident population and adopting immigration policies and encourage controlled growth."
MLA Summers said he had a feeling over the last couple of years, "we have become a bit lackluster in our approach to immigration.
"We seem to have adopted a much more controlling rather than encouraging attitude towards immigration," and urged, "everyone to have a think about whether that is the right way to go and whether we should not be more proactive..."
He said it was important that the best was done to encourage those members of the community employed on contract terms to stay in the Islands. The transient nature of such a large sector of the population was not the best thing for developing a nation he suggested.
The Falklands could just about continue to manage with a population of 3,000 said MLA Summers but he asked: "With a larger population would we do better economically, would we create more economic activity?"
He said it was important to encourage contractors to stay by making opportunities clear to them. Controls on those immigrating to the Islands should not be any less but they should be, "appropriate and properly applied in the right manner and be proportionate to what it is we are trying to achieve."
He outlined the practical issues and cost implications of having people, "coming and going all the time," and referred to the "huge" amount of money spent on re-recruiting.
He noted Government was working on immigration issues that would increase the length of work permits.
He said the purpose of the Bill was to stimulate discussion amongst the population and Members, about what was wanted for the longer term in terms of size and permanency of population. (PN).-