Giant 1.000 kilos manta ray caught by Peruvian fishermen
Monday, April 27th 2015 - 21:29 UTC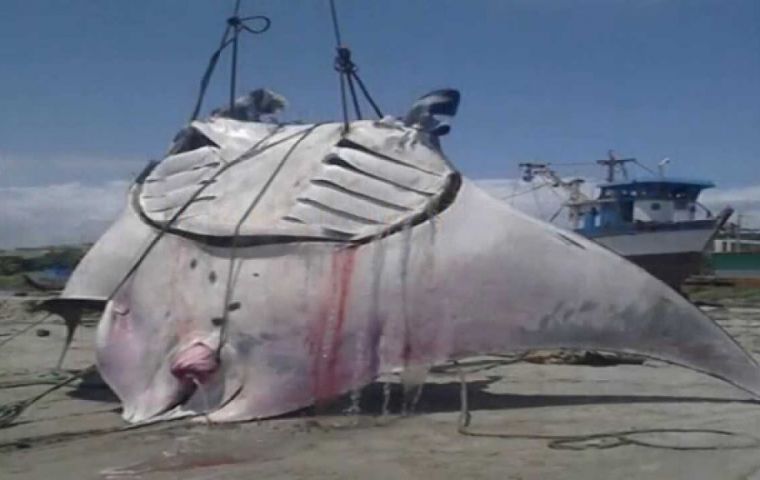 A giant manta ray of approximately 1.000 kilos was caught by Peruvian unsuspecting fishermen operating at La Cruz inlet, north of the country close to the Ecuadorian border, according to Lima media. Erick Cruz Guerrero, 22 was the young crew member that finally captured the giant manta ray which had to be unloaded with a crane.
A tourist who happened to be there when the manta was being unloaded took pictures and shared it with social media and was rapidly picked up by the Peruvian press.
Tumbes region prosecutor Felix Quinde Feijoo requested the Peruvian Sea Institute, Imarpe, to provide his office with the background and circumstances of the catch since it is a non common species in Peruvian waters.
According to the official report on 17 April and eight miles off the coast, the ray got caught up in the net as the small wooden artisanal vessel trawled for fish.
Franco Vergara, who was in the boat, said: "We were taken completely by surprise when we felt the whole boat shudder and lurch".
"We looked over the side and saw this enormous creature below us. 'I had never seen a Manta Ray live before and it took a couple of seconds to realize what it was".
Apparently the manta ray then pulled the vessel along the coast until 04:30 the following morning, when exhausted the crew sailed back to the La Cruz inlet where they arrived eight hours later.
The scientific name of the manta ray is "Manta birostris" and according to Peruvian fisheries experts is a pelagic migratory species. She remains relatively along surface and does not dive deep, and prefers cold water, which along the Peruvian coast usually is July, August. Fishermen have reported that manta rays on occasions leap out of the water several meters high.