No end in suffering for Nepal: officially 3.220 dead and powerful aftershocks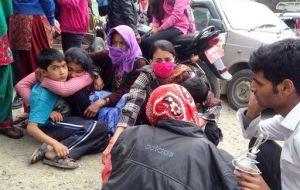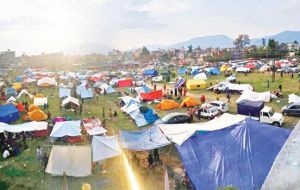 At least 3,218 people are now known to have died in a massive earthquake which hit Nepal on Saturday, say officials. Rameshwor Dangal, head of Nepal's disaster management agency, said another 6,500 people had been injured. Dozens of people are also reported to have been killed in neighboring China and India.
Thousands have spent a second night outside after the 7.8-magnitude quake, which also triggered deadly avalanches on Mount Everest. Vast tent cities have sprung up in Nepal's capital, Kathmandu, for those displaced or afraid to return to their homes as strong aftershocks continue.
Rescue missions and aid have started arriving to help cope with the aftermath of the earthquake, the worst to hit Nepal for more than 80 years. Efforts to dig victims out from under the rubble of collapsed buildings in Kathmandu continued into Monday.
But home ministry official Laxmi Prasad Dhakal said rescuers were "in a really bad shape" after working non-stop for two days. "We are all about to collapse."
Meanwhile, officials have warned that the number of casualties could rise as rescue teams reach remote mountainous areas of western Nepal.
Initial reports suggest that many communities - especially those close to mountainsides - suffered significant quake damage.
Landslides have prevented rescue teams from reaching rural communities in the area where the quake was centered, chief Gorkha region district official Prakash Subedi said.
"Villages like this are routinely affected by landslides, and it's not uncommon for entire villages of 200, 300, up to 1,000 people to be completely buried by rock falls," World Vision spokesman Matt Darvas said. "It will likely be helicopter access only."
A man evacuated by helicopter to Pokhara, 200km from Kathmandu, said almost every home in his village of more than 1,000 houses had been destroyed, charity worker Matt Darvas of World Vision told the BBC.
In Dhading district, 80km west of Kathmandu, people were camped in the open, the hospital was overflowing, the power was off and shops were closed, Reuters news agency reported.
A powerful aftershock was felt on Sunday in Nepal, India and Bangladesh, and more avalanches were reported near Everest. The 6.7-magnitude tremor, centered 60km east of Kathmandu, sent people running in panic for open ground in the city.
At hospitals rattled by the aftershocks, staff moved sick and injured patients outside on Sunday afternoon. Both private and government hospitals have run out of space and are treating patients outside, officials say.
Deepak Panda, a disaster management official, said medical services were "overwhelmed with rescue and assistance requests from all across the country", Reuters reports.