Falklands' fisheries contribute an additional £6 million to Islands' budget
Tuesday, April 28th 2015 - 02:07 UTC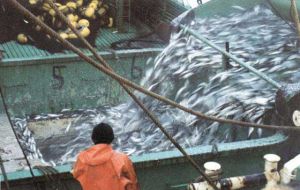 It's budget time in the Falkland Islands and fishing again has boosted the government coffers this year with more than £6 million above that originally budgeted, according to the Penguin News.
Director of Natural Resources John Barton said that because of the good catches, it was not anticipated that any refunds in licence fees would be made. Additional trans-shipping fees as well as higher dock rental fees as a result of activities within the hydrocarbons industry had also contributed to the positive variance.
However Human Resources is one of only three government departments where expenditure was adverse by £41,000 to plan in the first nine months of the year and ironically is attributed to an increased requirement for casual staffing within the department.
The Public Works department also had a negative variance of £135,000 which was attributed to slower private electricity sales than anticipated as well as the delay in the wash plant at the quarry becoming operational.
But now the temporary dock and the 'Snoozebox' are up and running it was anticipated that unit sales would increase however the recent reduction in unit price meant that the it would be unlikely that the full budget would be met.
Central Services is also £112,000 down which has been attributed to several factors including the fact there had not been any large fines received from the Courts this year, however reduced revenue from the Leisure Centre was also afforded some of the blame. (PN).-