IAATO 2015 convention starts today in Rotterdam - Falkland Islands Tourist Board Management in Attendance
Tuesday, April 28th 2015 - 08:05 UTC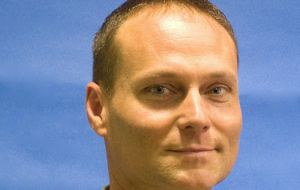 Tony Mason, Director, International Communications and Stephanie Middleton, Interim CEO of the Falkland Islands Tourist Board are in Rotterdam, Netherlands this week attending the IAATO conference where key issues affecting the region will be discussed.
IAATO is a membership organisation founded in 1991 to advocate, promote and practice safe and environmentally responsible private-sector travel to the Antarctic.
Antarctica symbolises the greatest expression of international peace in our world today. Managed for more than half a century through the Antarctic Treaty System's extraordinary global partnership of 50 countries, the entire continent is formally designated a "nature reserve, devoted to peace and science," putting all territorial claims on hold.
The treaty is supplemented by the protocol on environmental protection that sets standards for all human activities - government and tourism alike - and which aims to ensure that those activities are conducted in a way that limits adverse impacts on the Antarctic's environment.
Tourism is a legitimate activity under the Antarctic Treaty and visitors each year come from all over the world to witness and experience Antartica's tranquil natural splendour and unique wildlife offering.
Mr. Mason said being a member of IAATO and attending the conference each year is very important because it ensures the Falkland Islands are abreast of what is going on in the region, concerns by shipping companies and cruise operators are openly discussed, as well as incidents that affect destinations and operators.
"The networking opportunities at this event build relationships that will ensure communication channels are always open, said Mr. Mason."