Petrobras contracting companies' officials released from jail and moved to house arrest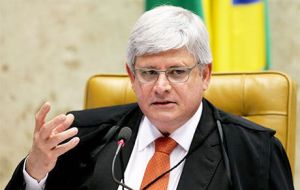 Brazil's Supreme Court has ordered the release from jail of nine executives from engineering corporations charged in the corruption investigation at state-run oil firm Petrobras. In a statement the court said that the executives had the right to defend themselves out of jail, although they will be under house arrest.
The Supreme Court's decision may complicate prosecutors' efforts to convince more executives to collaborate with the investigation. Previously, only executives who signed plea bargain deals were released from jail in the southern city of Curitiba, where the case is under the jurisdiction of federal judge Sergio Moro.
Prosecutors charged the executives with corruption and money laundering in December, though Moro had authorized their arrests in November. They are accused of organizing a cartel that fixed contracts and overcharged Petrobras, and funneling the excess funds to political parties, politicians and themselves.
The executives to be freed include senior leadership of OAS , Camargo Correa, UTC Engenharia, Galvao Engenharia, Mendes Junior and Engevix.
Brazil's prosecutor general Rodrigo Janot criticized the Supreme Court's decision. In a statement, he said he believed forming the cartel constituted a risk to public order and justified their continued detainment.
Prosecutors have indicted 97 people, among them executives and the treasurer of President Dilma Rousseff's political party. Dozens of politicians are implicated in a parallel investigation based in Brasilia.
Public disgust over the scandal, thought to be the largest corruption scheme uncovered in Brazil, has led to massive street protests.