Brazil raises basic rate 50 points to 13.25%, highest since December 2008
Thursday, April 30th 2015 - 07:52 UTC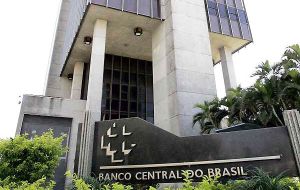 As was anticipated and in line with the current anti-inflation policy, Brazil's central bank on Wednesday evening announced the increase of the basic Selic interest rate another 50 points to 13.25% from 12.75%. The decision from the nine-member Monetary Committee was unanimous, according to the official release.
This was the fourth time running that the Central bank raises the reference interest rate, which now stands at the highest since December 2008.
"Assessing the current macroeconomic scenario and inflation prospects, Copom decided to raise the Selic rate 50 points to 13.25%", said the brief statement from the committee.
Brazil's benchmark interest rate now stands well above those of other major emerging market countries such as India and Turkey, both with rates at 7.5%. While most major economies have cut rates to shore up growth, Brazil has raised borrowing costs by 225 basis points in the past six months.
The Brazilian central bank gave no clear indication it is ready to stop the rate-hiking cycle just yet. The bank repeated the same laconic message in its post decision communiqué, leaving analysts guessing.
Although most analysts believe this could be the last rate increase of the year, a growing number acknowledged the bank could raise rates a bit more to counter possible shocks stemming from an imminent U.S. monetary tightening.
The central bank is spearheading efforts by President Dilma Rousseff to restore credibility with investors after years of interventionist policies and lavish spending jacked up prices and threatened Brazil's investment grade rating.
Aided by aggressive fiscal tightening, the central bank has promised to bring 12-month inflation, which was running at 8.13% in March, to the 4.5% center of an official target by 2016.
But inflation expectations have remained high despite the recent tightening, even when some price pressures are starting to ease.