Uruguay forecast to grow 2.5% this year, but must "strongly moderate" public spending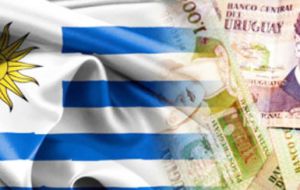 Private consultants forecast the Uruguayan economy will expand 2.5% in 2015, compared to 3.5% the previous year, but recommend a "strong moderation" in government spending to retake the path of sustained growth and contain the consequences of an adverse international scenario mostly recessive.
"The government will have to be more tidy with its spending, contain the increase in salaries, since they influence high inflation and low competitiveness", said this week economist Pablo Rosselli from Deloitte's during a conference.
"Uruguay since 2005 has been consolidating a scenario of strong fiscal deficit, high inflation, low competitiveness which doubles the challenge to implement an adjustment in macroeconomic policies, with moderation as the guiding course", underlined Rosselli.
This is particularly demanding in the regional recession context, since "Argentina and Brazil are cutting into Uruguay's time to implement the necessary measures, faced with an increase in the value of the US dollar and the sustained depreciation for the prices of Uruguay's main commodities exports".
"Beef prices are still holding strong, but there are also down pressures because of a weaker Euro, Russian rubble and Brazilian Real, together with the fall in grains and oilseeds prices".
Rosselli also indicated that Uruguay urgently needs infrastructure reforms in education, development and innovation to help improve the business climate in the country. "Companies feel the business climate is not bad, but could certainly be far better".
The Deloitte economist also pointed out that the TISA international treaty, which refers to the liberalization of services' trade "is a great opportunity to attract investments and expand the country's export capacity", despite the threats from organized labor that it will combat Uruguay's TISA membership 'to the very end'.
"Uruguay is a small country and it is necessary to be present at the negotiations, whether the country finally decides to join or not, following the benefit/losses assessment".
Rosselli emphasized that it's important to recall that the strength of Uruguay's economy have made it an attractive country for foreign investors, given the fact that it has managed a decade long sustained growth with low unemployment and significant reductions of poverty and inequality.
To this must be added that Uruguay has ample "international reserves" and there is no risk of an excessive indebtedness from the private sector.