Falklands/Malvinas claim: "Argentina following on Ghandi's teachings"
Monday, May 4th 2015 - 05:19 UTC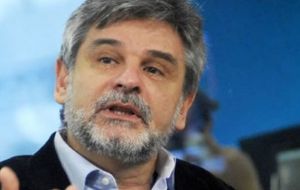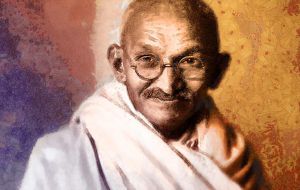 Argentina is following on Mahatma Gandhi's teachings or ahimsa (truth, love and fraternity) that brought independence to India, to claim the Falklands/Malvinas and other South Atlantic islands, said Daniel Filmus, head of the Malvinas Issues Desk in the Argentine foreign ministry during his latest incursion this time in Ethiopia.
"Argentina has learned from Gandhi to be patient and to wait. We have learned from him that in the end people will get what is theirs and get what they want despite the amount of time it may take," said Daniel Filmus, according to IANS the Indo-Asian News Service in Addis Abeba.
"Gandhi is a peace icon and an example for world peace. That is what we are going to do to fulfill our purpose despite the consistent refusal by the British government for dialogue", pointed out the former Buenos Aires city senator.
"India strongly supports the position of Argentina in several multi-lateral organizations," Filmus also pointed out to the Indian news agency.
"India actually signed on the G77 plus China resolution in June last year. That resolution also talks about the sovereignty rights of Argentina over hydrocarbon as well as other natural resources of the area," the Argentine official said.
According to Filmus, Argentina gives a great deal of importance about strengthening ties with India especially in scientific development process and trade. Lately, commercial relationship between India and Argentina has grown exponentially and Buenos Aires is paying special attention in areas of information technology and communication and nuclear power.
In Argentina, there are 14 Indian companies, seven of which are in the IT and IT-enabled services sector, employing some 7,000 individuals, and the rest in various manufacturing areas, from pharmaceuticals to cosmetics to agrochemicals.
India and Argentina, he said, enjoyed warm and friendly relations based on shared values of democracy, rule of law and inclusive growth. During the fiscal year 2012-13, bilateral trade between the two countries was estimated at about 1.8 billion.