Uruguay has the lowest corruption perception among Mercosur members
Monday, May 4th 2015 - 06:30 UTC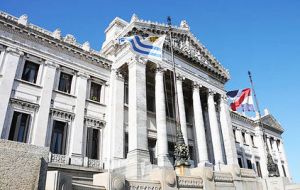 Uruguay enjoys the lowest perception of corruption among Mercosur countries and also a privileged position at global level, according to the country's Transparency and Public Ethics Commission. The ranking was based on data from Transparency International and World Bank for the period extending from 2003 to 2014.
Uruguay historically has been a country with a low perception of corruption although this does not mean that it is immune to the disease.
Normally a strong opposition in the Legislative and a relatively independent media has contributed to keep limits or exposing temptations.
Taking into account Mercosur, and according to Transparency International, Uruguay during the last three years has been among the world's leading 21 less corrupt countries, followed by Brazil which ranked among the seventies (that was before the current exposure of alleged corruption in the country's largest corporations, Petrobras and several governments run banks).
Argentina and Bolivia figured just below the hundredth ranking, while Paraguay and Venezuela are catalogues as the most corrupt in positions 151 and 165 respectively.