Brad Pitt invited to Ecuador to observe the 'pollution disaster" allegedly caused by Chevron
Tuesday, May 5th 2015 - 17:38 UTC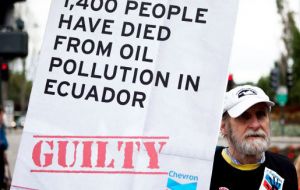 US cinema star Brad Pitt has been invited by the Ecuadorian government to observe the pollution in the country's Amazon region allegedly caused by Chevron. President Rafael Correa announced the invitation in his regular weekend report, saying that the oil giant is in preparation of spearheading a film with the movie star about an alleged case against the company.
According to Correa, Chevron has been ordered by Ecuador to pay a 9.5 billion dollars indemnity "for environmental and social damage it supposedly caused while operating in the country from 1962 to 1990," the news outlet added. The corporation, however, refused to adhere to the Ecuadorian government's demands.
Correa also said that Chevron paid for the publication of a book titled "Law of the Jungle," which, as pointed out by the president, portrays Ecuador in a bad light. He explained that the book, which could have the 51-year-old star in the movie version, claims that the country was full of "savages" and "corruption."
Correa assumes that Pitt has a "social conscience" and even asked his government to launch a worldwide Internet campaign aimed to warn the Hollywood A-list actor that he is being "used" by Chevron. He also added that if the "World War Z" star has any doubts about the matter, the actor is welcome "to Ecuador so that he himself can put his hands into the (polluted) ponds (and verify) that 30 years after that corrupt and corrupting company left the country, it's continuing ... to poison our jungle".
Chevron has also accused the Ecuadorian government of being behind an alleged conspiracy to defraud the energy corporation. However, "the government and the plaintiffs -- settlers and Indians living in the Amazon jungle who claim to have been harmed by the pollution -- have denied" Chevron's conspiracy claims.
"Law of the Jungle" was released last September and was penned by Bloomberg Businessweek senior writer Paul Barrett, Fortune reported. George Clooney's production company Smokehouse Pictures also expressed interest in acquiring the film rights for the book, but there are speculations that Pitt's Plan B Entertainment already owns the sale.
"I was very flattered that George Clooney and his producing partner [Grant Heslov] indicated interest in buying an option on the book, but ultimately we decided to do business with another very eminent Hollywood production company," Barrett said, as quoted by Fortune. "I had these two amazing opportunities and had to choose one. So I did."
Allegedly Pitt has long been interested in the Ecuadorian Amazon pollution and even took a trip to the country with his wife Angelina Jolie to observe the circumstances.