Cutting down killer whale toothfish snacking in South Georgia
Wednesday, May 6th 2015 - 06:18 UTC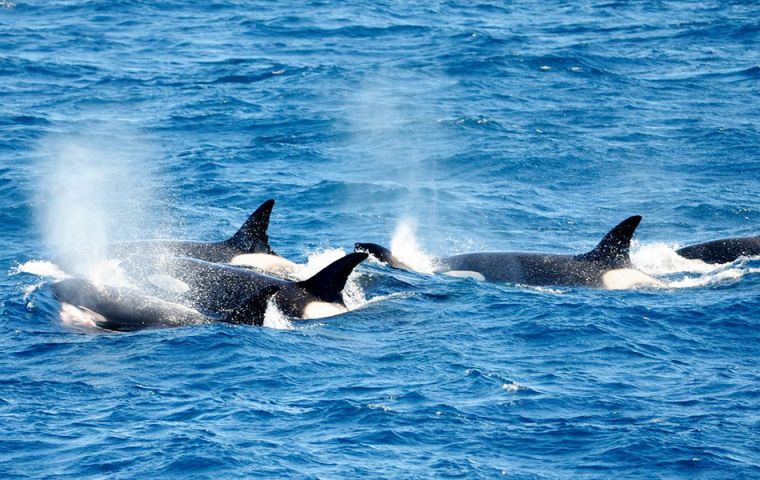 Studies of killer whales (Orca) in South Georgia waters may help fishermen avoid the whales stealing the fish off the fishing long-lines (termed depredation), according to the latest edition of South Georgia Newsletter.
Researchers from CEFAS, BAS and GSGSSI set out to gain an understanding of where, when, and how much depredation occurs in the toothfish fishery around South Georgia by examining catch rates, mammal abundance, movement, and mammal-vessel interactions.
The studies led to new insights into mammal depredation behavior around the island, enabling them to suggest new ways to reduce depredation. The resulting paper was published by PLOS ONE on March 4th.
The effect of whales eating fish off longlines reduces the valuable catch of toothfish and other fish species and can result in considerable financial loss to fishermen. The unrecorded loss of fish can also make stock assessment, and so long-term management of fisheries, more difficult.
Killer whales are not the only animals to take fish off the fishermen's longlines in the South Georgia area however. Other animals that will take fish include fur seals and sperm whales, and a third of longlines set in the region are affected by predation by these animals. Killer whales however are by far the biggest offenders. They actually interact with less longlines, but when they find a line they can take more than half of the catch.
The researchers found that killer whales mainly work in smaller areas of the South Georgia fishery, and these areas possibly coincide with the migration routes of the whales. Off South Georgia, killer whales are mainly encountered north of Cumberland Bay and around Shag Rocks. Unfortunately these areas are also popular with the fishermen at the same time that the whales are moving through.
Over the years several measures have been tested to try to reduce depredation by killer and sperm whales. These include acoustic harassment devices and physical protection of the catch by nets, hooks or wires. Changes in fishing practice have also been tried, such as moving to a different area when killer whales are present, changing offal dumping practices or using lines of different length, but these measures have only had limited success. The most effective method so far has been to leave the line and for the fishing vessel to move a substantial distance away when killer whales arrive, returning to collect the line later.
The paper suggests that understanding the seasonal behavior of the whales, and analyzing where most depredation happens, could be used to reduce the effect they have on the fishery. The fishermen could avoid some whale predation by not setting lines in the areas when the whales are likely to be migrating through. Indeed, the scientists suggest that fishing in less profitable but killer whale-free areas could be a trade-off worth considering for the fishermen.