Brazil's industrial production continues to skid, 4,7% in twelve months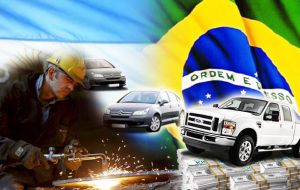 Brazil's industrial production has dropped 4.7% in the last twelve months after slipping in March by 0.8% amid a sharp downturn in the country's economy, official figures showed Wednesday.
Brazil is enduring a fifth straight year of low growth -- last year saw GDP grow by just 0.1 percent and this year is set to see a contraction of around 1.0 percent, the Central Bank and International Monetary Fund agree. The seasonally-adjusted decline for the first quarter of the year was 5.9%.
"With the March 2015 result, industrial production is 11.2% below the record level reached in June 2013," the national statistical institute IBGE said.
February saw industry contract 1.3% -- revised from an initial fall of 0.9% -- with vehicle production sliding 4.7% while machinery was down 3.8% and capital goods by 4.4%.
Durables slid 3.1% and consumer goods 1.1%, the figures showed in fresh negative data for a government already rocked by rising inflation, joblessness and interest rates as well as a huge graft scandal at state oil firm Petrobras.
The local currency, the Real, has also plunged, losing around a fifth of its value against the dollar this year.
National statistical institute IBGE figures for February had shown a 9.1% output drop over the same month in 2014 for the biggest inter-annual fall in six years. The institute indicated all major sectors of the economy had seen a drop in production.
The industrial production index has been negative for 13 straight months: -3.5% in March, compared with forecasts of -3.0 percent, albeit better than February's slump with that month's showing partially influenced by having fewer working days.