Brazil wants to review Mercosur 'liberty' rules; sends strong public message to Argentina
Thursday, May 7th 2015 - 06:55 UTC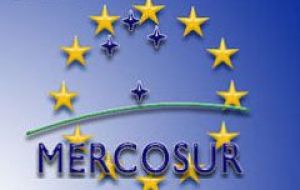 Brazil has proposed reviewing Mercosur rules so that its members can enjoy more 'liberty' to negotiate trade agreements with other blocks or third parties, because even when "Mercosur is an indissoluble marriage, this does mean that relations can't be discussed" and thus a 'different speeds' group should not be discarded.
"There is nothing in the world that reaches such a point that impedes making adjustments and giving countries, such as Brazil a greater degree of liberty to advance in new trade agreements with other countries or blocks" said Armando Monteiro, Development, Industry and Foreign Trade minister during a hearing at the Foreign Affairs committee from the Lower House in Brasilia.
Mercosur rules impede county members from negotiating trade agreements with third parties individually and demand (compulsorily) that discussions be as a group, a stance which has also been repeatedly criticized by Uruguay and Paraguay, which together with Argentina and Venezuela make up the Mercosur block.
Monteiro told lawmakers that this rule is one of the main barriers for the over a decade stalled EU/Mercosur trade and cooperation negotiations to advance. The minister also revealed that there have been ongoing differences with Argentina regarding, the exchange with the EU, of joint proposals for tariff reductions.
However even when the joint proposal, which covers almost 80% of the current trade universe with the EU, is retaken it would most probably take place at "different speeds", according to the conditions and timings of each Mercosur member.
"We want to send a clear strong signal, particularly to Argentina, of the urgency to reach a trade agreement with the European Union", underlined Monteiro. "If Argentina has different rhythm timings, we must find mechanisms to advance in that process respecting the position of the block, but also guaranteeing the different timing of each member".
Monteiro admitted that the very delicate economic situation of Brazil demands an urgent expansion of foreign trade, so the country can re-launch growth and strong development, 'which are the targets of President Dilma Rousseff's administration'.
Last year Brazil had a negative trade balance of almost 4 billion dollars, the first time in fourteen years, a tendency which has been confirmed in the first four months of this year with a negative balance of over 5bn dollars.