Strong support for Supreme Court and members from Argentina's main private sector organizations
Saturday, May 9th 2015 - 10:02 UTC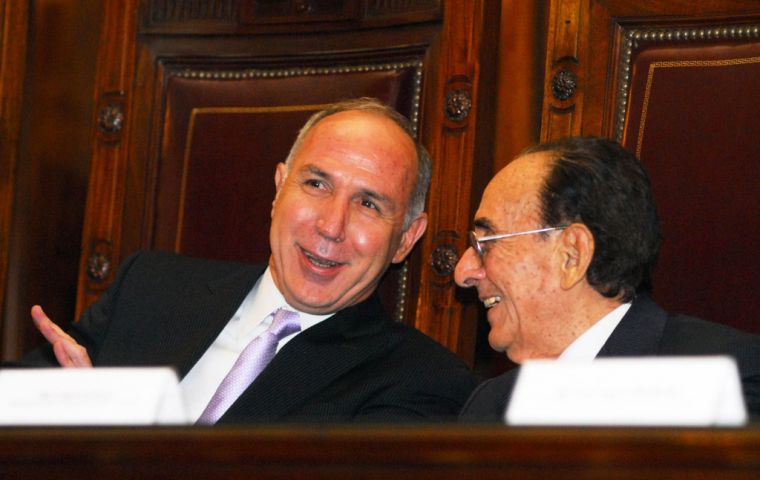 Some twenty private organizations representing commerce, agriculture and other activities openly supported in a Friday release Argentina's Supreme Court and Judiciary, rejecting what was described as "hostile expressions" from some government officials.
"An independent Judiciary branch is a fundamental pillar of a republican system and plays a leading role as guarantor of the rights enshrined in the national Constitution" points out the release.
Based on this "we reject the hostile expressions addressed to the Supreme Court of the Nation both in reference to its president (Chief Justice Ricardo Lorenzetti) as well as its other members"
"Respect for rule of the law and the dignity of Justice, particularly towards the Supreme Court and its authorities is the foundation of civilized coexistence and an indispensable requirement for the human, social and economic progress of our society" concluded the brief release, which is followed by the names of all those organizations supporting it, which are some of Argentina's most powerful private sector organizations.
President Cristina Fernandez is immersed in an ongoing battle to 'tame' the Judiciary with the purpose of introducing reforms to make it more 'transparent and people oriented', plus naming her candidates to occupy magistrate benches.
In this confrontation her administration has accused the Supreme Court Chief Justice of ill-managing the institution, lagging investigations and further claims that one of its members Ricardo Fayt, who is 97 and considered the most learned in Argentine law, needs to prove he is physically and mentally capable to continue in his post.
The daily attacks are coordinated by cabinet chief and spokesman Anibal Fernández, who is a fierce vocal attacker and denigrator of those he targets, or is ordered to target.