A bashed Bachelet expects to announce reshuffled cabinet this Monday
Monday, May 11th 2015 - 09:15 UTC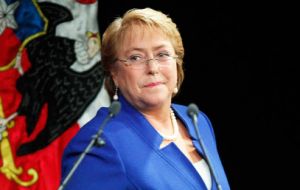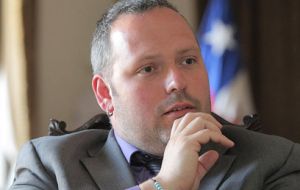 Chilean President Michelle Bachelet plans to announce a reshuffling of her Cabinet this Monday in a bid to restore her public image, which has been badly tarnished by corruption scandals, including one involving her son.
New ministers are expected to be announced even as the attorney general continues an investigation into an illegal campaign financing scheme that has touched the president's allies.
Separately, local prosecutors in southern Santiago are investigating whether Bachelet's son, Sebastian Davalos, peddled influence and misused privileged information. Davolos was called to testify last month in the probe.
Chile's first woman president, Bachelet was elected to a second term starting in March 2014 on the strength of her then-considerable personal prestige and an ambitious reform agenda, including a promise to push for a new constitution to replace one passed under the Pinochet dictatorship in the 1980s.
However recent controversies have seriously shaken Bachelet's approval numbers, with one recent opinion poll conducted by the Chilean Center for Public Studies showing her favorability at just 29% of those polled, down from 80% when she left office in 2009.
Although she has managed to push through tax and education reforms during her first 14 months in office and has support from a majority of the Chilean congress, the uncertainty caused by the investigations has cast doubt over her other proposals, including the new constitution.
Bachelet announced last week that she was asking all ministers to resign and that some or all would be replaced. She chose an unusual forum to make the announcement -- a TV interview with Mario Kreutzberger, better known as Don Francisco, host of a popular Chilean variety show syndicated throughout Latin America.
"I thought it necessary to evaluate multiple things, from management to the new team that will accompany me in this new cycle to allow the reforms to be carried forward," Bachelet told Kreutzberger in the May 6 interview.
She also acknowledged that "confidence in the presidential institution" has been compromised by the scandals, including "the issue involving my son and daughter-in-law." Bachelet, who is divorced, had named her son "socio-cultural director," a post with functions similar to those filled in the United States by the first lady.