Argentine presidential election next 25 October and run-off 22 November
Tuesday, May 12th 2015 - 06:05 UTC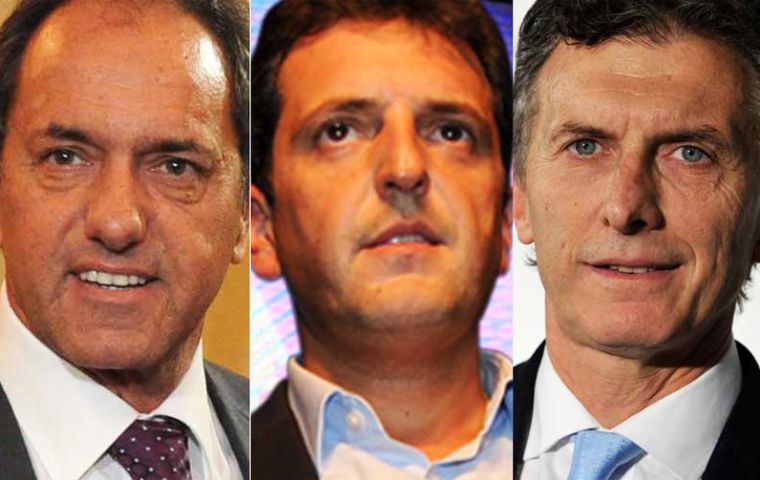 The Argentina government formally announced on Monday the primary and national elections calendar, which for the first time includes direct vote for representatives to the Mercosur parliament. Simultaneous primaries will be held on 9 August while the presidential election on 25 October.
Presidential decree 775/2015 published in the Official Gazette gives the details of the calendar which opens the way for approximately 32 million Argentine registered voters to elect the successor of President Cristina Fernandez, half of the Lower House seats and a third of the Senate.
With only five months to the general election, opinion polls indicate that none of the presidential hopefuls will obtain a clear victory in the 25 October and thus a runoff is forecasted between the two candidates with most votes on 22 November.
So far the favorites are Buenos Aires province governor, Daniel Sciloi, who apparently has the support from Cristina Fernandez and her ruling Victory Front party; Buenos Aires city mayor Mauricio Macri and head of the PRO party (Republican Proposal) and opposition lawmaker Sergio Massa, from a dissident grouping of the hegemonic Peronist movement.
Likewise for the first time 43 representatives will be elected in direct vote for the Mercosur parliament, one for each of the 23 Argentine provinces, another for the city of Buenos Aires and a further 19 elected under a single national district.
Parlasur was created in December 2005, and started meetings in May 2007, but with each member's representatives were elected by the country's different Legislatives.