Falklands' Isobel Deep drilling operations have recommenced
Tuesday, May 12th 2015 - 22:03 UTC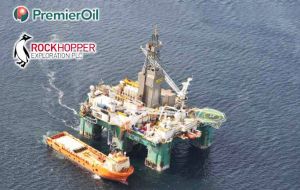 Energy company Rockhopper Exploration and Falkland Oil and Gas Ltd., have announced that drilling operations at Isobel Deep well have recommenced. Isobel Deep is located in the North Falklands basin and is part of the current round of drilling in Falklands' waters.
UK-based Rockhopper said on Tuesday that technical issues relating to the Eirik Raude (UDW semisubmersible) rig's blow-out preventer (BOP) control system have now been fully resolved and license operator Premier Oil has resumed drilling on the well (designated 14/20-1), which is expected to take approximately 15 days to complete.
London-based investment bank Westhouse Securities stated that the Isobel Deep prospect contains 70 million barrels of oil equivalent and the organization believes the latest news could develop more opportunities for larger energy firms.
"Further success in this campaign, following the success of the first well Zebedee, should make the North Falklands basin a more attractive farm-in opportunity for bigger companies," Westhouse analysts wrote in a brief research note.
Premier Oil's Zebedee well, offshore the Falkland Islands, discovered oil and gas in April 2015. The Isobel Deep well was spud by Premier Oil on Apr. 8, 2015.
Whilst the repairs were being undertaken the rig was utilized to drill top-hole sections and set conductors on the Chatham and Jayne East locations. On Jayne East the 36" conductor was set at a depth of 541 meters and the well temporarily suspended. Drilling on Jayne East will recommence when the rig returns after the Humpback well in the South Falklands basin.