Cameron puts pressure on Europe for major changes and revamped links
Wednesday, May 13th 2015 - 07:00 UTC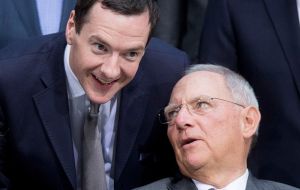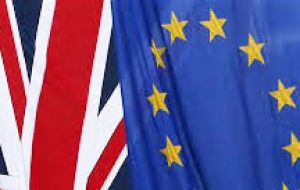 Prime Minister David Cameron will hold an early referendum on membership of the European Union if he can first reach a deal that satisfies his demands for major changes in Britain's relationship with the bloc, his spokesman said yesterday.
Cameron, who won a majority in Thursday's general election, has pledged to renegotiate Britain's ties with Europe and then give voters an in-out referendum on EU membership by the end of 2017.
"If we can do it earlier we will," his spokesman said when asked if Cameron would like to hold the vote earlier. The spokesman added that Cameron would seek changes to EU's basic treaties as part of the renegotiation.
The prospect of a vote on membership by the EU's second-biggest economy has worried both investors and allies, who say Britain's influence would be diminished if it dropped out of the world's biggest trading bloc.
Cameron says he wants to stay in a reformed EU but has also said that he would not be heartbroken if Britain left. Opinion polls show British voters are divided, with a little over half in favor of membership.
Since unexpectedly winning a second term, Cameron has been offered talks on reforms by European leaders but the EU executive has stressed that there can be no renegotiation of the EU's basic treaties.
But Cameron's spokesman was clear: "He wants treaty change."
"All the advice that he has had is that treaty change is required, for example in terms of some of the changes that we want to see in welfare," said the spokesman.
Making amendments to the basic treaties requires unanimity among all 28 states and even if such an agreement could be reached those changes would need to be ratified in each country.
Ratification would require votes in parliaments or in some cases national referendums. And France, among others, fears that it would not be able to secure a Yes vote for new EU deals in the face of mounting Euro-skeptic sentiment.
Last year Cameron set out plans to limit welfare payments to EU migrants. Some analysts believe those measures would require treaty change, though lawyers are split on the question.
Cameron wants to cut red tape emanating from Brussels, and restrict its powers. He thinks national parliaments should be able to work together to block EU legislation. He also wants to limit EU influence on British policing and justice.
The Prime Minister has thus far won limited backing from other EU leaders and while German Chancellor Angela Merkel does favor treaty change, she wants something more narrower as a way of deepening Euro zone integration.
Germany will work with Britain to improve the European Union, Finance Minister Wolfgang Schaeuble said after meeting Cameron's finance minister, George Osborne, in Brussels.
Further details about Britain's view of which reforms are needed will be set out by Cameron at a meeting of EU leaders in late June, the spokesman said.
Cameron would take the lead in negotiations, supported by Osborne, Foreign Secretary Philip Hammond and Europe minister David Lidington.
Osborne, speaking in Brussels, cautioned that allies should not underestimate Britain's determination. "We go into the negotiations aiming to be constructive and engaged but also resolute and firm and no one should underestimate our determination to succeed for the working people of Britain," Osborne said.