Argentine Supreme Court confirms Chief Justice and challenges Cristina Fernandez
Thursday, May 14th 2015 - 07:38 UTC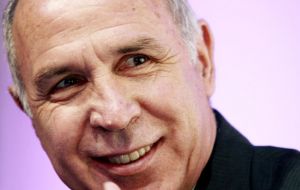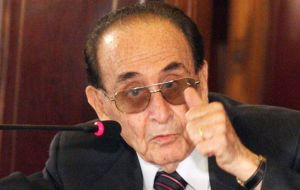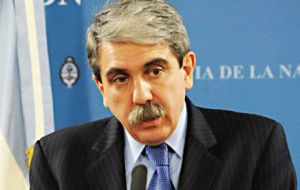 Argentina's Supreme Court has signed an "extraordinary accord" confirming the re-election of Chief Justice Ricardo Lorenzetti to the chair until 2019, in a meeting attended by Justice Carlos Fayt who has been the target of an ongoing attack from the administration of president Cristina Fernandez, which wants the 97 year judge impeached.
During the Wednesday meeting all the ministers signed resolution 15/15, confirming Lorenzetti as president for the period 2016-19 and Elena Highton de Nolasco as vice-president.
Minutes before 10 am, the car which picked up 97-year-old Fayt from his Recoleta home arrived at the Supreme Court headquarters in the Justice Palace, downtown Buenos Aires, after several weeks of absence. The veteran magistrate went straight into the chambers without visiting his office, which caused several collaborators to race around due to the "change of plans".
Lorenzetti, Fayt, Highton de Nolasco and Juan Carlos Maqueda had caused intrigue with a second accords meeting in two days, Tuesday's having taken place without Fayt's presence. But the mystery was resolved around midday when a statement was released via the Judicial Information Centre titled "The Supreme Court has reaffirmed powers for designation of authorities."
The ministers had resolved to "declare that in the designation of authorities carried out by resolution 11/15 the attribution recognized by this Court through decree 1285/58 and ratified by law 14,467 has been put into place."
In the four-line resolution, the judge testified the "good faith of the deliberations carried out and the results obtained, with the place in the City of Buenos Aires where it was definitively signed by the ministers being irrelevant." That line referred to the fact that Fayt signed the renewal of authorities motion at his Recoleta home, as revealed by media in the past week.
The Cristina Fernández administration has questioned Fayt's 'health and mental' abilities to remain in his position pushing for an investigation into his health condition in the Lower House Impeachment Committee which was approved yesterday.
In related news Cabinet Chief Anibal Fernández who has been the daily tormentor of Justice Fayt said that "it is not the government that is asking, it is the Congress that evaluates a request from a lawmaker," referring to the possibility of pursuing a political trial on Fayt.
Fernandez made his statements Wednesday morning when entering the Casa Rosada presidential house after the Lower House Impeachment Committee (dominated by pro-Kirchnerite members) approved on Tuesday an investigation into the health condition of Fayt.