Falklands debates bringing contract workers for maintenance of roads system
Thursday, May 14th 2015 - 00:56 UTC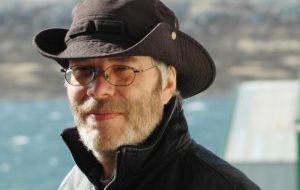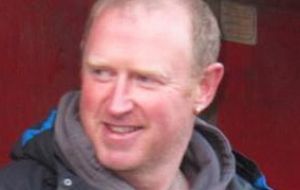 Bringing contract workers in to ensure enough staff to maintain the Falkland Islands' roads ready for the start of the season in the spring, if not earlier is MLA Gavin Short's wish.
In an interview with Penguin News MLA Short revealed the subject had recently been raised with the Chief Executive as the lack of staff was not just a Public Works Department (PWD) problem, although it was the worst affected.
MLA Short said there were some bridges to be crossed with regard to where to recruit from and where to accommodate once here, "but we cannot stagger on any longer, we have to act."
MLA Short acknowledged that the MPA Road had deteriorated badly, but he said grading had been ongoing for a fortnight and capping for the past week. "But this work is not going to be pretty," he added.
"Views on the road will always vary, just as sections of it will vary and the necessary balance between grading on other parts of the network and the MPA Road, particularly when there are resource issues, means that calls have to be made as to where to place those resources.
"Overall the aimed for level of grading has been achieved for the most part and the staff involved will continue to use best endeavors to keep the MPA Road in as good a condition as is practical," said MLA Short.
However some users say that the road is in a worse condition than previous years and there are concerns that it has deteriorated further much earlier in the winter.
"To be honest the actual condition is not necessarily worse than previous years, but the big concern is, if it has gotten this bad, this early in the winter, then I think we will be in for a far worse road surface for a much longer period this year," said transport company owner Andrea Clausen.
FITT transport passengers and freight to and from the airport.

"Sadly, every year we have this conversation and there is never any change – it is very disheartening. Interestingly, I understand all the road plant is in tip-top condition but there are just no people to do the work. Sadly this filters down to recruitment and immigration which is all in our Members' hands," she said.
Goose Green manager Keith Alazia (along with Mrs Clausen) is feeling the impact of the road on his pocket as the road takes its toll on vehicles.
He said the Goose Green vehicle spares bill was the highest since they began haulage, "solely due to the state of the road." He described his driver as, "one of the most careful going, "adding that he was also partially responsible for the maintenance of vehicles, so he knew it was not a case of bad driving.
Mr. Alazia said he did not necessarily agree that the MPA Road should be completely resurfaced, "regular maintenance would be sufficient," but he appreciated that the Government was too stretched. He wondered if a better option would be to privatize the maintenance?
Mr. Alazia reported that the MPA to Darwin section of road, one that has been heralded as the best in the Falklands, was also starting to deteriorate. "It hasn't been graded in a very long time," he said, adding that recent haulage of heavy loads to New Haven was not helping.
MLA Short said an engineering survey was to take place this coming financial year which would provide, "the magic number" of what it would cost to resurface the road.
But, he doubted his colleagues would be willing to part with £40 to £60 million (his guess) to do the road in one or two seasons as there was not the spare cash in the capital budget.
He said: "I suspect they may not be too keen on raiding our reserves until we are sure that we see income from hydrocarbon exploitation, as at the moment we depend quite a lot on those reserves and I for one don't want to be the owner of a shiny new road whilst we are slashing recurrent and capital expenditure and maybe looking at either cutting back on services and/or raising tax rates etc to pay for the functioning of the Falklands."
However MLA Short said he believed, "that we could have been chipping away at the road, doing a few kilometers a year."