Vatican formally recognizes the State of Palestine and signs first treaty
Thursday, May 14th 2015 - 08:02 UTC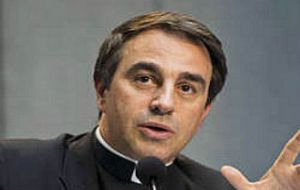 The Vatican concluded its first treaty that formally recognizes the State of Palestine, with an agreement on Catholic Church activities in areas controlled by the Palestinian Authority, the Holy See said on Wednesday.
The agreement "aims to enhance the life and activities of the Catholic Church and its recognition at the judicial level," said Monsignor Antoine Camilleri, the Vatican's deputy foreign minister who led its six-person delegation in the talks.
The text of the treaty has been concluded and will be officially signed by the respective authorities "in the near future," a joint statement released by the Vatican said.
Vatican officials stressed that although the agreement was significant, it certainly did not constitute the Holy See's first recognition of the State of Palestine.
"We have recognized the State of Palestine ever since it was given recognition by the United Nations and it is already listed as the State of Palestine in our official yearbook," Vatican spokesman Father Federico Lombardi said.
On November 29, 2012 the UN General Assembly adopted a resolution recognizing Palestine as an observer non-member state. This was welcomed at the time by the Vatican, which has the same observer non-member status at the UN.
During a three-day visit to the Middle East a year ago, Pope Francis delighted his Palestinian hosts by referring to the "State of Palestine", giving support for their bid for full statehood recognition.
The four-person Palestinian delegation was led by the Assistant Minister for Foreign Affairs, Ambassador Rawan Sulaiman.
In an interview with the Vatican's official newspaper, L'Osservatore Romano, Camilleri said he hoped the agreement would indirectly help the Palestinian State in its relations with Israel.
"It would be positive if the accord could in some way help with the establishment and recognition of an independent, sovereign and democratic State of Palestine which lives in peace and security with Israel and its neighbors" he said.
Pope Francis is scheduled to hold a meeting with the president of the Palestinian National Authority Mahmoud Abbas next Saturday.