Falklands' Borders & Southern releases encouraging technical update of Darwin gas/condensate discovery
Monday, May 18th 2015 - 05:03 UTC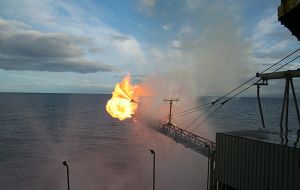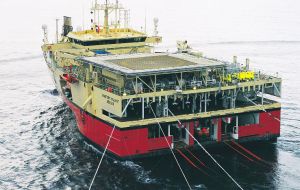 Borders & Southern has issued a technical update on its Darwin gas/condensate discovery south of the Falkland Islands and near-field prospectivity. The goal was to improve understanding of the Darwin reservoir interval, both within and surrounding the discovery and also its projected facies trend along the Aptian shelf
The company revealed it has identified additional reservoir intervals and has better defined the discovery's reservoir characteristics. As a result the explorer now estimates the combined Darwin East and Darwin discovery contains 360mln barrels of recoverable gas condensate.
Borders has also defined 'near field' prospects, called Covington and Morgan, which it believes will be more likely to contain oil rather than gas or condensate. Another two near field prospects, Sulivan and Stokes, are deeper than Darwin and are more likely to be gas condensate.
Covington and Morgan are estimated to contain 216mln and 230mln barrels of potentially recoverable oil respectively, whereas Sulivan and Stokes are estimated to have 473mln and 134mln barrels of recoverable condensate.
A fifth prospect, Wickham, is believed to be more likely oil and is estimated at 119mln barrels.
An exploration drilling campaign is currently underway in the Falklands, but, Borders & Southern is not among the companies partnered in the rig sharing contract. Borders & Southern said it will continue with further sub-surface technical work to refine its assessment of the Darwin area.
Analysis was based on 2,500 sq km of pre-stack depth migration (PSDM) 3D seismic data. Initial interpretation confirmed the basic structural mapping but extended knowledge northward away from the discovery. Mapping also highlighted numerous seismic amplitude anomalies, some coincident with previously mapped leads.
The next phase of evaluation involved a seismic inversion study using well-to-seismic calibration to help characterize the reservoir and aid prospect definition. It led to identification of new potential reservoir intervals and improved definition of prospects and resource assessments.
Results have highlighted a previously unrecognized reservoir interval extending over part of the Darwin East and Darwin West structures, just above the main reservoir. Although it is poorly developed in the discovery well, it appears to expand to the east and south on the inverted seismic data.