UK commends Guyana's elections and pledges support for President Granger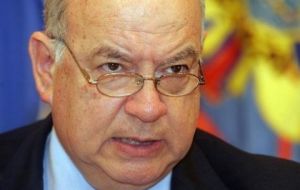 The United Kingdom congratulated Guyana for last week's general election and promised to continue working with the new government of David Granger to build on the strong and long-standing relationship between the two countries.
"The UK welcomes the successful conclusion of Guyana's general and regional elections on 11 May, and I congratulate David Granger on his election as President of Guyana, " said Minister for Overseas Territories, James Duddridge.
Reports from local and international observer groups are that "the elections took place without any significant disruption and that it was credible, transparent, free and fair. The citizens of Guyana have made their voice clear, and the large numbers who turned out to cast their ballots is a testament to the strength of democracy in the country", added the UK minister.
Finally the "UK looks forward to working with the government of Guyana in continuing to build on the strong and long-standing relationship between our two countries".
Guyana last 11 May held general and regional elections to elect a President and 65 MPs. The coalition opposition party A Partnership for National Unity +Alliance For Change (APNU+AFC) won the election with 50.3% of the total vote.
Observers of the event consisted of the diplomatic community and other interested NGOs and private sector bodies. International observers came from the: Caribbean Community (CARICOM); Carter Center; Commonwealth; Organization of American States; and UNASUR.
Last 16 May, the Guyana Elections Commission (GECOM) officially declared that the APNU+AFC coalition has won the 2015 General and Regional Election in Guyana.
Following the announcement the OAS Secretary General José Miguel Insulza congratulated President David Granger, who was sworn in shortly thereafter, and wished him success and prosperity during his period as the head of the government of Guyana.
"The OAS recognizes the efforts undertaken by GECOM to ensure that the electoral process was carried out according to established law and reiterates its compliments to the people of Guyana for their extraordinary civic commitment show throughout the electoral process", said the organization in a brief statement.