Falklands' Isobel Deep well with good prospects of finding oil, say operators
Wednesday, May 20th 2015 - 05:11 UTC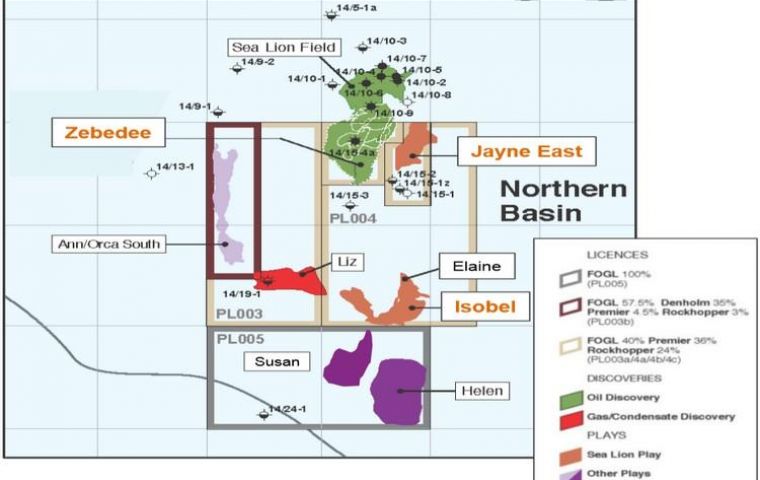 Premier Oil's high-impact Falklands Isobel Deep well has hit oil shows in a suspected high pressure formation, partners Rockhopper Exploration and Falkland Oil & Gas Ltd., said Tuesday morning. But, the area will now have to be cased, delaying the drilling program.
The well, 14/20-1, is being drilled using the Eirik Raude semisubmersible drilling rig. Rockhopper, which has 24% working interest in Isobel Deep, says a sand interval was penetrated with "suspected elevated formation pressure and oil shows." The interval is to be cement plugged and "a contingent 9 5/9in casing string run in the shale section above, before drilling through the prognosed Isobel reservoir interval, to planned total depth".
Rockhopper and FOGL say the contingent casing string will enable additional flexibility while drilling and evaluating the target formation.
However "the presence of oil shows is not necessarily indicative of net pay and conclusive results for the well will not be available until drilling operations have been completed and logging data collected." An announcement on the results of the well will be likely made in early June.
Drilling operations on the Eirik Raude semisubmersible drilling rig were halted late April and the BOP removed after an equipment malfunction, said partner Rockhopper Exploration at the time.
Drilling resumed 11 May after repairs to the BOP control system and re-testing of the BOP stack were performed. Isobel Deep in exploration license PL004a is Premier's second exploration well in its 2015 campaign offshore the Falkland Islands, following a successful well on the Zebedee prospect.
When the well spudded, 8 April, Rockhopper said that if successful, the well on Isobel Deep has the potential to open up a new development area.
The Isobel/Elaine complex is estimated to contain mid case un-risked gross prospective resources, based on the operator's estimates, of 243 MMbbl, partner FOGL indicated.