Cristina Fernandez launches May Revolution week with strong messages
Thursday, May 21st 2015 - 06:26 UTC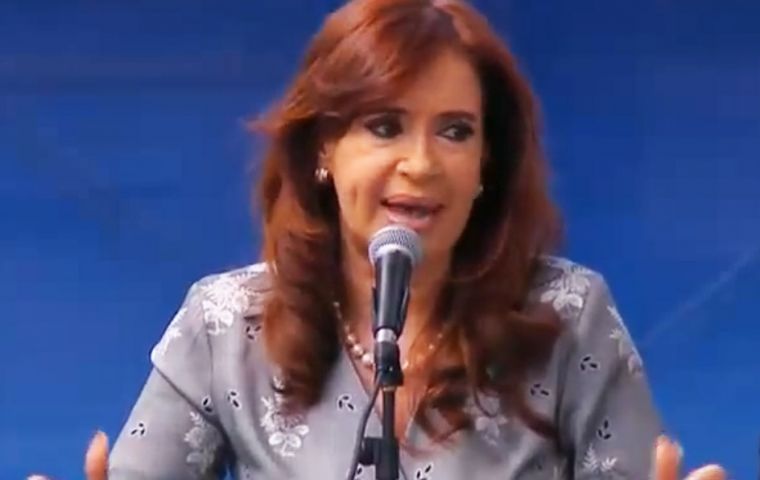 President Cristina Fernández led on Wednesday a rally in the Buenos Aires City central railway station of Retiro where she praised the renovation of Argentina's railway system in an event that was part of the official celebrations marking a new anniversary of the May Revolution, which in 1810 was the beginning of the country's road to independence.
The head of state said that even though Economy minister Axel Kicillof was her "best advisor", it was the president who "keeps on managing the economy because (economic) decisions always have to be made by the president, for better or worse."
The Argentine president urged party members to "talk about the direction the country will have starting on December 10 and not about nonsense or pantomimes," referring to October's elections when Argentines will choose a new government.
The president also stated that "there are no credits if there are no savings except if you want to indebt the nation."
Later on, Cristina Fernandez sent a message to the Argentine people and expressed: "This railway system, these investments are yours, they no longer belong to this government and it is up to you to defend them and to take care of them so no one can take them away from you anymore."
The head of state was joined by Interior and Transport Minister Florencio Randazzo, members of the cabinet, governors, mayors and by thousand of railway workers.
There were artistic interventions within the facilities of the Retiro station. New train cars that have been recently purchased from China by the federal government were shown as well.
On April 15, the Congress passed a law that created the "Argentinean Railways" company and declared of "National Public Interest" and "Main objective of Argentina" the reactivation of the railways policy.
This was one of the many activities that will be developed as part of the celebrations for the Revolution of May, which will involve the opening of the Néstor Kirchner Cultural Center on May 21 at the former Buenos Aires post office building as one of its most important events.
Celebrations will conclude with the popular festival "Homeland is the other" to be held at Plaza de Mayo on May 25 where dozens of national and international artists will perform.