Brazil and Uruguay on an "urgent and necessary" redesign of Mercosur
Friday, May 22nd 2015 - 05:49 UTC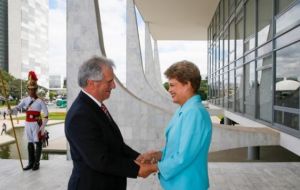 Uruguayan president Tabare Vazquez said it was "urgent and necessary" to redesign Mercosur so as to give its members greater 'trade flexibility'. Vazquez made the statements following Thursday meeting with his peer Dilma Rousseff in Brasilia and underlined "it would be naive to admit that Mercosur as it stands currently, is satisfactory".
Three Mercosur partners, Brazil, Uruguay and Paraguay, (which together with Argentina and recently incorporated Venezuela make up the trade block), have agreed that it is necessary to look for a way to end one of the main hurdles for the grouping: it's impossible to reach trade agreements without the blessing of the other members.
Vázquez said it was necessary to grant member countries "certain degree of flexibility, so that those who wish can advance with other trade partners". He insisted, "Mercosur must adapt to the new circumstances".
The stance which was openly supported by Brazil's Rousseff means a pivotal change for Mercosur and one which for years junior members Paraguay and Uruguay were requesting despite the reticence of Brazil and the ongoing Argentine economic policies to privilege its industry and domestic market.
Traditionally opposed to the idea that Mercosur members should be allowed to negotiate trade agreements with third parties, Brazil has been forced to modify its stance under the effects of a declining economy and pressure from the main business groups and lobbies of the country.
Last month, IMF anticipated that the Brazilian economy would undergo a 1% contraction this year, a forecast that has been confirmed by private and lately government estimates.
Vázquez who is increasingly concerned with the loss of intra-Mercosur trade, and Rousseff whose government has been rattled by a huge corruption scandal in the country's largest corporation, and until recently an icon of Brazilian power, are much interested in reaching a trade and cooperation agreement with the European Union, a project started in 1999 and which still lingers after several re-starts.
"The joint negotiation Mercosur/European Union is a priority objective, long planned but which currently is again stalled", claimed Vazquez in his exchange with the media at Planalto Palace, seat of Brazil's executive.
Uruguay, Brazil (and Paraguay) agree that such an accord represents for Mercosur a viable and urgently needed opening to the world's main leading trade groups.