Brazil heading for full recession: economic activity down, unemployment up
Friday, May 22nd 2015 - 08:16 UTC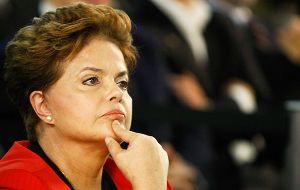 Economic activity in Brazil tumbled in the first quarter and unemployment climbed to a near four-year high, adding to signals that a looming recession could worsen as President Dilma Rousseff reins in public spending.
The central bank said on Thursday its IBC-Br economic activity index dropped 0.8% in the first quarter from the last three months of 2014, after sliding more than expected in March.
The index, a gauge of activity in the farming, industry and services sectors, serves as a proxy for official GDP. Economists expect Brazil's GDP to shrink 1.2% in 2015, the steepest decline in 25 years, according to a central bank poll on Monday.
In a separate report, statistics agency IBGE said Brazil's unemployment rate climbed to 6.4% in April, the highest since May 2011.
The figures highlight the steep downturn of the Brazilian economy that has dragged Rousseff's popularity to record lows, reduced fiscal revenues and threatened the investment-grade rating of the once high-flying emerging market star.
The end of a decade-long commodities boom partly explains the fall from grace of the mining and agriculture powerhouse that grew an average of 4% a year in the last 10 years.
Dwindling business confidence caused by interventionist policies during Rousseff's first term, excessive government spending and high inflation have contributed to the sharp slowdown.
Job losses have piled up in recent months as industrial output has crumbled and retailers struggle with falling consumer confidence and high inflation. Wages also dropped. Salaries discounted for inflation fell 0.5 per cent from March and slid 2.9% from April 2014.
Since her re-election in October, Rousseff has cut spending and raised taxes to regain investors' trust despite fears the belt-tightening could deepen the expected recession and further erode her political support.
Brazil is expected to announce a budget freeze of up to 80 billion Reais on Friday in order to meet its key fiscal goal this year. Economists also expect the central bank to raise interest rates towards 14% in coming months, one of the highest among major economies.
Government officials acknowledge the aggressive fiscal and monetary tightening will take a toll on the economy, but believe it is necessary to jump-start activity next year.
New Finance Minister Joaquim Levy could reveal fresh tax hikes as soon as Friday as he tries to make up for revenue losses from changes in saving measures under debate in Congress. The government is considering removing tax breaks for equities and raising taxes on banks' profits.