PM Li Keqiang in Bogotá: China and Colombia considering free trade accord
Friday, May 22nd 2015 - 08:52 UTC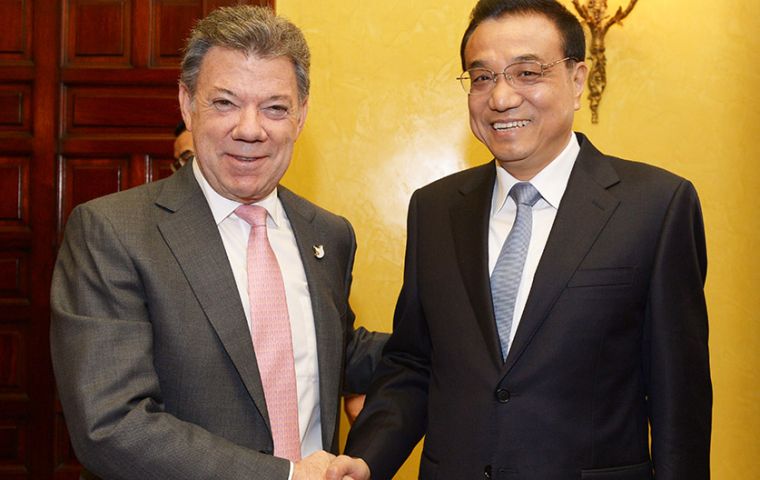 Chinese Premier Li Keqiang vowed to deepen economic ties with Colombia after arriving to Bogotá on Thursday, as part of his four-nation South American tour aimed at boosting trade and investment. Li is the highest-ranking Chinese official to visit Colombia since the two nations established diplomatic ties 35 years ago and his visit was hailed as historic by President Juan Manuel Santos.
In their first meeting late Thursday at the presidential palace, the two signed deals providing scholarships for 200 Colombians to study in China and mapping a development plan for the violent Colombian port city of Buenaventura where the US$17 billion in annual trade between the two countries is concentrated.
Li, speaking to reporters following the meeting, said the two also discussed the possibility of initiating talks aimed at signing a free trade agreement. He also pledged 8 million dollars in aid to help Colombia maintain the peace in war-torn rural areas if the negotiations with Marxist inspired rebels to end a half-century conflict succeed.
Colombia has one of the region's most dynamic economies, with growth that last year far outpaced that of three other countries — Brazil, Chile and Peru — being visited by Li on his regional tour.
But Colombia has lagged behind its neighbors in expanding trade with China. In an article published Thursday in the Bogota newspaper El Tiempo, Li said trade with Colombia is just 6% of the Asian giant's overall trade with Latin America.
Even so, China is Colombia's second-biggest trading partner, the buyer of 10% of the country's exports last year.